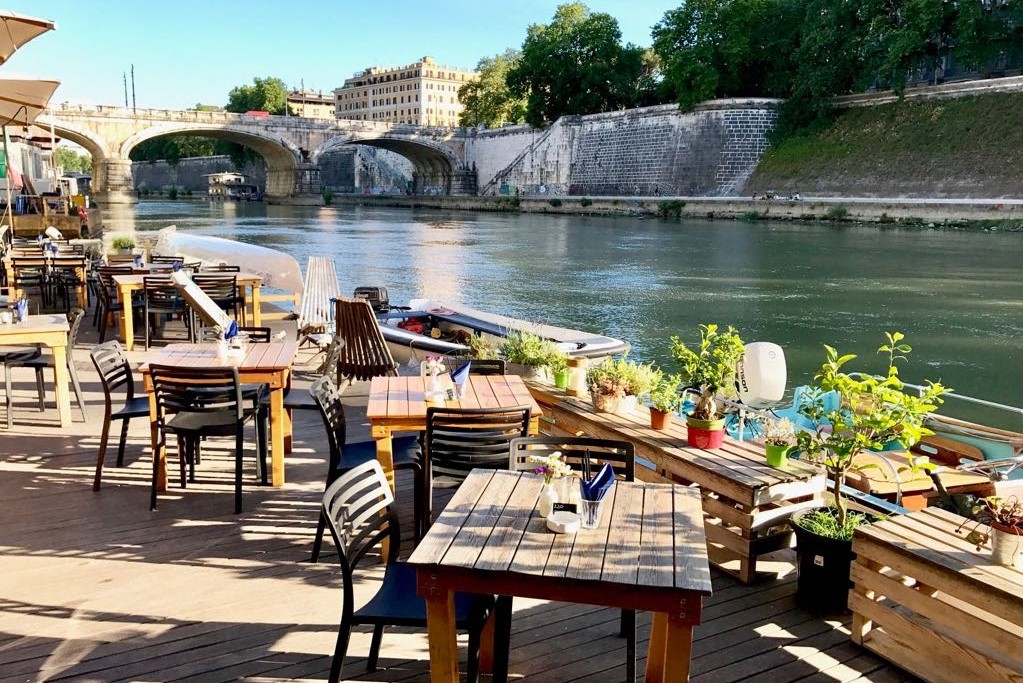 Rome's Best Winebars & Bistros
From traditional enoteche to fancy cocktail bars and elegant bistros, have a look at our tips to find the perfect place to enjoy your drink in a cosy square or on a stunning rooftop terrace overlooking the wonders of Rome!
---
1. AI TRE SCALINI – Bottiglieria dal 1895
A true jewel in the heart of Monti district, Ai Tre Scalini is one of the oldest Wine Bars in Rome and will welcome you in a warm and cosy atmosphere, few minutes walk from the Colosseum!
Perfect place to drink a good glass of wine or enjoy a late afternoon aperitivo after your sightseeing in Rome historical centre.
Particularly busy on the weekends because it is a popular meeting point for locals!
Address: Via Panisperna 251 (Monti district);
Reservation recommended, especially on the weekends;
---
2. SALOTTO 42 – Boutique Winebar
Salotto42 was born in 2004 as a bookbar in the beautiful Piazza di Pietra, facing the astonishing remains of Hadrian's Temple.
It is an elegant yet friendly place where you can taste great wines and sophisticated cocktails in the cozyness of a unique atmosphere.
Also, you can taste delicious cold cuts and fish tartares paired with refreshing sparkling wines. Reservation is highly recommended, since the place is tiny and consistently popular with locals.
Address: Piazza di Pietra 42 (Pantheon area);
Reservation recommended, especially on the weekends;
---
3. HOTEL FORUM – Rooftop Garden above Ancient Rome
Hotel Forum hosts a stunning Rooftop American Bar with one of the best views over the Roman Forum. Just a perfect setting to enjoy a glass of great Italian wine after visiting the wonders of Ancient Rome.
The Bar is usually open from April to October, from late afternoon to midnight. Anyway we suggest you contact Hotel Forum beforehand to double-check opening dates and reserve your favorite table!
Address: Via Tor dei Conti 31 (Monti district);
Reservation recommended, especially on the weekends;
By the way here is a list of other stunning Rooftop Bars in Rome: https://youlocalrome.com/the-best-rooftop-bars-in-rome/
---
4. CAFFE' PROPAGANDA – The Roman Bistrot
Retro atmosphere with a contemporary touch for a truly unique venue, just few steps away from the Colosseum.
Caffè Propaganda is the perfect place for those looking for an elegant yet informal bistrot in the heart of Rome, 
Excellent cocktails and fine patisserie are among the keys of the success of such a unique location.
Highly recommended for romantic couples! 🙂
Address: Via Claudia 15 (Colosseum area);
Reservation recommended, especially on the weekends;
---
BAJA – The River Experience
Elegant yet laid back Lounge Bar/Restaurant settled in a recently renovated floating boat on the Tiber River. Far from the city chaos you will taste great cocktails and local culinary specialties while enjoying a unique view over the river of Rome.
Highly recommended for the aperitivo and to those looking for a truly unique and non-touristic experience…just few minutes walk from Piazza del Popolo and the Spanish Steps!
Dj set or live music are often scheduled at nighttime on the weekends!
Address: Lungotevere Arnaldo da Brescia, under Pietro Nenni Bridge (5 minutes walk from Piazza del Popolo);
Reservation recommended, especially on the weekends;