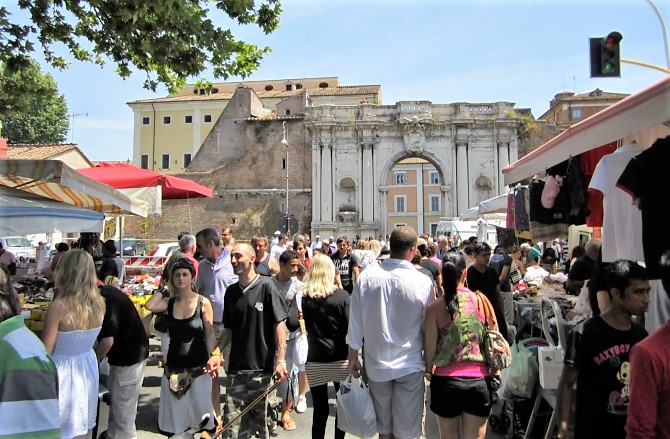 Rome's Flea Markets, Antiques & Vintage Shops
Lively Flea Markets and trendy Vintage Shops are spread all over Rome. Have a look at our favorite spots and choose the place that fits your style. Special tip: never forget to bargain with local vendors to get the perfect deal!
PORTA PORTESE – Flea Market
Porta Portese is the Sunday market of Rome. With more than 1000 stalls (!) selling anything possible, it is the most popular Flea Market in Italy and one of the largest in Europe.
Born after the war as new home to the Campo de' Fiori black market, Porta Portese has been shot in many movies (Ladri di Biciclette by Vittorio De Sica above all) and featured in many songs and poems as a major symbol of modern Rome street culture.
​Therefore taking a stroll through this market on a sunny Sunday it is a  truly enriching experience, not just a fun way to buy nice second hand clothes, leather jackets, vintage sunglasses, antique furniture, vynils, books, prints…and much, much more!
​Do not miss a visit to this historical market during your stay in Rome, but please remember:
– Always watch your belongings, as there may be pickpockets!
– Avoid playing the three cards game (believe us: you will lose your money 100%)
– Never give up bargaining with the vendors to get a better deal!
​
ADDRESS: Piazza di Porta Portese, Via Portuense, Via Ippolito Nievo (Trastevere/Portuense district);

OPENING HOURS: Sunday Morning, 7:00 AM – 2:00 PM (some stalls close at 5:00 PM);

Please Note: dates & times are subject to change. Double-check beforehand!