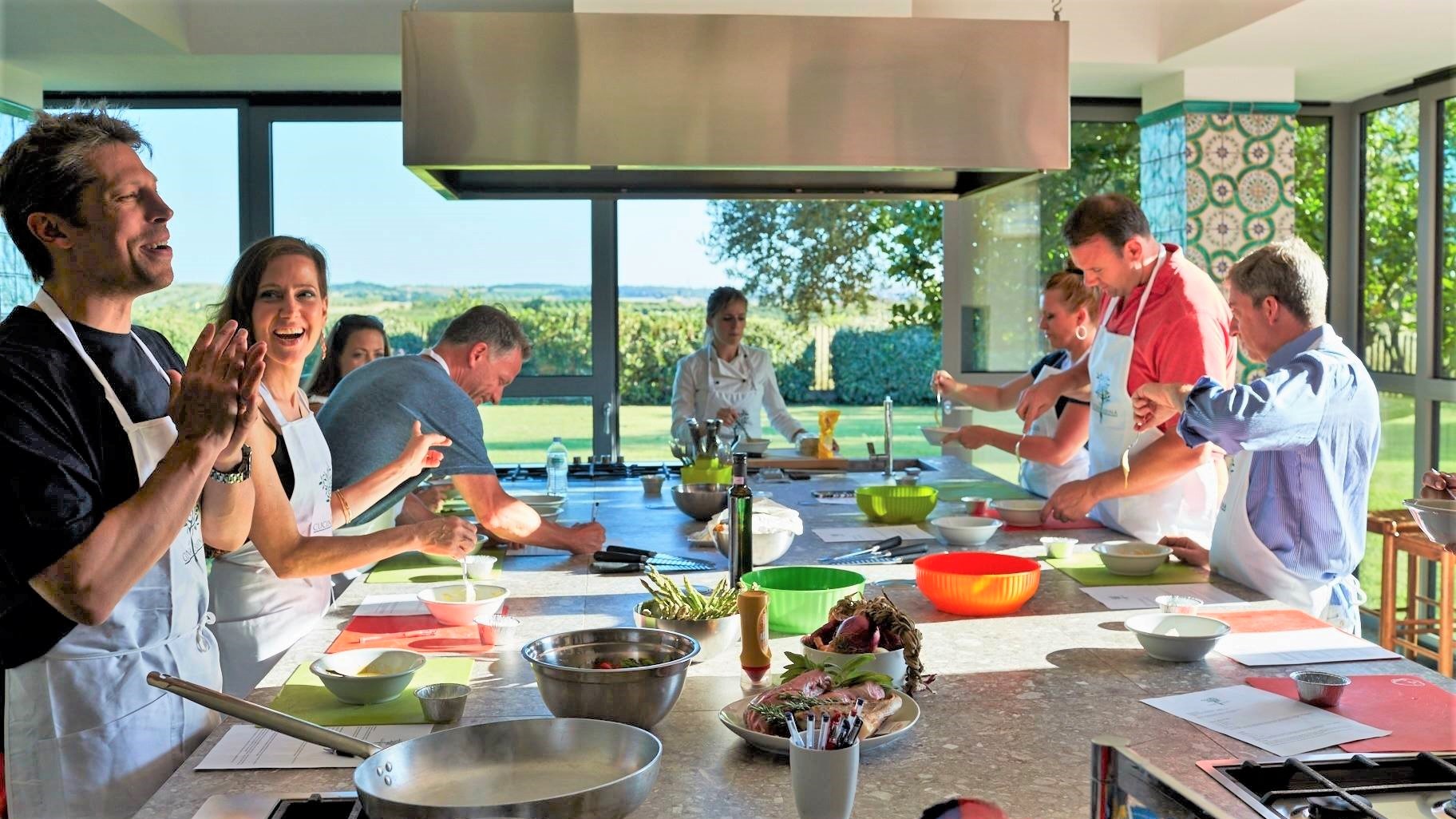 A splendid Villa in the Roman Countryside for a Culinary Vacation of a lifetime!
As proud locals, we love showing our guests the best Rome has to offer.
Not only major landmarks and art jewels spread all over Rome's city center (check our tours for more info) but also hidden spots and precious destinations far from the tourist crowd.
On this basis, we have established a special partnership with La Cucina Sabina, a splendid Villa in the Roman countryside featuring a unique vacation program that combines food, culture, friendship and fun in a vacation of a lifetime.
Keep reading for full info!
Culinary Vacation at a Roman Villa: the quintessence of la Dolce Vita!
To all the lovers of Italy's La Dolce Vita, this is the experience you have been waiting for!
Embrace yourself for a culinary vacation in the luxury of a gorgeous Villa in the heart of the Sabina region, just 40 km North of Rome. You'll enjoy a unique six-day experience, surrounded by a pristine Italian countryside.
Lodging and all meals will be provided during your stay as well as a four half-day cooking classes and plenty of other culinary experiences and excursions, both in Rome and at local destinations.
Cooking will focus on authentic Italian cuisine, including regional recipes using only the freshest farm-to-table ingredients.
Lessons will include appetizers, pasta, vegetarian dishes, meat and seafood dishes, cooking pizza in an outdoor wood fired oven, desserts, gelato, and much more.
Nearly two hectares of lush manicured lawn abounding with hundred-year-old olive trees, cedars and lemon trees will dazzle your senses while you enjoy all the facilities of such a unique venue.
The stunning centerpiece is an 1,800 square foot swimming pool. The bottom of the swimming pool is a contemporary art mosaic that extends the villa's turtle theme.
Tennis court, ping pong table and sauna will also entertain sports and fitness lovers.
Discover a local specialty: the Sabina DOP Extra Virgin Olive Oil
La Cucina Sabina not only offers a stunning location for a family vacation of a lifetime, but also a unique way to approach the Italian cuisine and one of the best Extra Virgin Olive Oils in the world: the Sabina DOP!
Infact the Villa is nestled in the heart of the beautiful Sabina region, land of the oldest olive trees in Europe.
Superb olive oil has been produced in the tranquil hills of Sabina since long before the founding of Rome. Once the Romans discovered it, the oil of Sabina became the olive oil of the Eternal City. Since then, it has been one of the most sought after oils in all of Italy.
La Cucina Sabina is surrounded by 1.000 olive trees, from which a great Sabina DOP-certified extra virgin olive oil is produced.
During your stay at the Villa you'll get a chance to walk through amazing olive groves, visit a local mill and taste delicious olive oils while learning the best recipes to use them!
Off note: olive oil lovers can also have a look at our Sabina D.O.P. Olive Oil Tour in the Roman Countryside.
La Cucina Sabina Culinary Vacation Program: a five-star service with a family touch!
La Cucina Sabina offer a five star service with a authentic family touch, for you and your loved ones to feel home every second of your stay.
Also, the Culinary Vacation program can be 100% personalized according to your needs.
Let us know what you want and we'll design a tailor-made experience just for your group.
Be ready to enjoy the best vacation & culinary adventure of your life!
For booking refer to YouLocal and get a 10% discount!