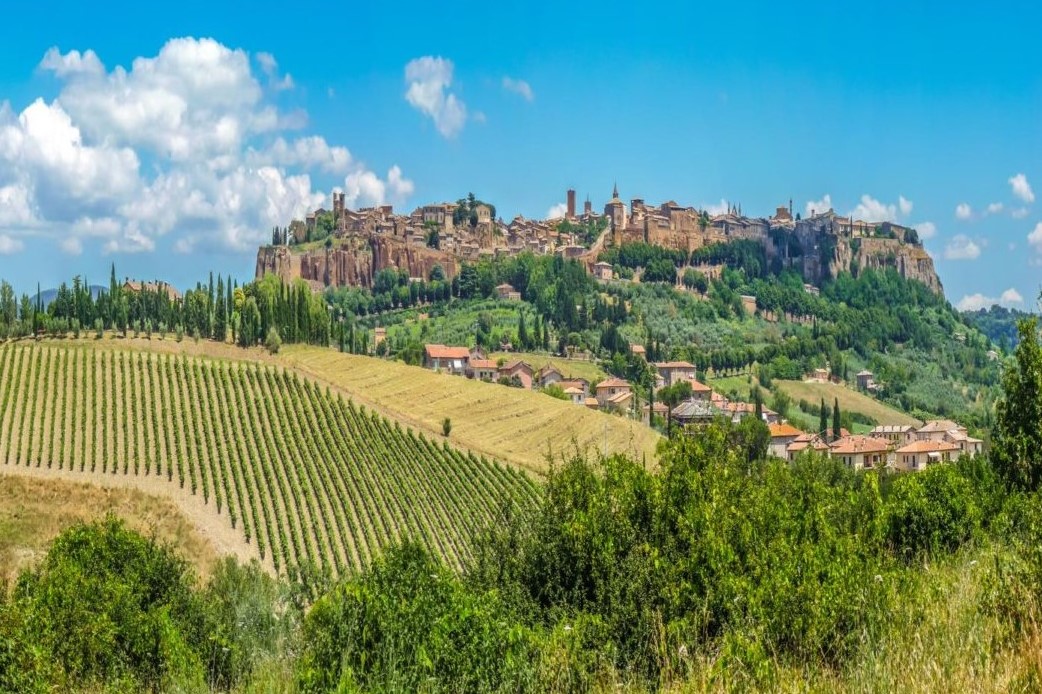 Wonderful Orvieto: What You Should See on a Day Trip from Rome
A small city in Umbria, Orvieto makes for a great day trip from Rome. Located north of the Italian capital, this historic city sits perched on a commanding rock cliff high above the valley floor. This spectacular setting alone is a good reason to go on a day trip from Rome to Orvieto. There are, however, also many other fascinating attractions in this beautiful Italian city.
Highlights of a Day Trip from Rome to Orvieto
Orvieto may be rather small, home to just over 20,000 people, but it definitely has its fair share of tourist attractions. It's a great example of a typical Italian hill town, boasting a majestic church, excellent wineries and beautiful historic architecture.
Duomo di Orvieto
There are many striking cathedrals in Italy, but few are as downright majestic as the Orvieto Cathedral. Boasting a magnificent, colorful and imposing Gothic facade, this towering church dates from the 14th century and is one of the top attractions in the entire region.
As beautiful as the cathedral's exterior is, you'll find even more wonderful art inside. The real highlight of the Orvieto Cathedral is the San Brizio Chapel, which features spectacular frescoes by Luca Signorelli.
Additionally, behind the Duomo lie the Palazzi Papali, a complex of medieval palaces that house the greatest and grandest devotional artwork in Orvieto. Definitely worth visiting, too!
Orvieto Underground World
Situated atop a huge rock, Orvieto boasts a vast network of underground Etruscan-era tunnels, caves and wells, dating from 2,500 to 3,000 years ago. This used to be a thriving underground city, home to features that impress engineers to this day.
A great example of the skill and craftsmanship of these ancient Italians is the 16th-century St. Patrick's Well, a double spiral staircase in a well shaft that leads almost 500 steps down into this subterranean world.
World-Class White Wines
Another aspect that makes a day trip from Rome to Orvieto such a great idea is the region's excellent wines. Orvieto is the heart of a designated Italian wine region, which is renowned particularly for its white wines.
These white wines are made primarily from blends of Trebbiano and Greschetto grapes, found in vineyards all around the city. As such, a visit to an Orvieto winery is an essential part of any Orvieto day trip from Rome.
Picturesque Medieval Lanes
Orvieto is many centuries old and its city center still features numerous historic buildings and evocative medieval alleyways and lanes. It's great fun to wander through this ancient maze of streets, which refuses to succumb to the pressure of modern-day mass tourism, retaining the mystery of the Middle Ages.
As these amazing attractions clearly show, an Orvieto day trip from Rome is worth considering if you feel like leaving behind the hustle and bustle of the Italian capital.
Orvieto Day Trip from Rome with You Local Rome
Feel free to take a look at our Art & Wine in Orvieto – Day Trip from Rome tour, which takes in all the above-mentioned highlights.
We'd also like to point out that all our tours, our day trip from Rome to Orvieto included, are 100% customizable. Just tell us what you'd like to see and do and we'll put together the perfect itinerary for you and your group!