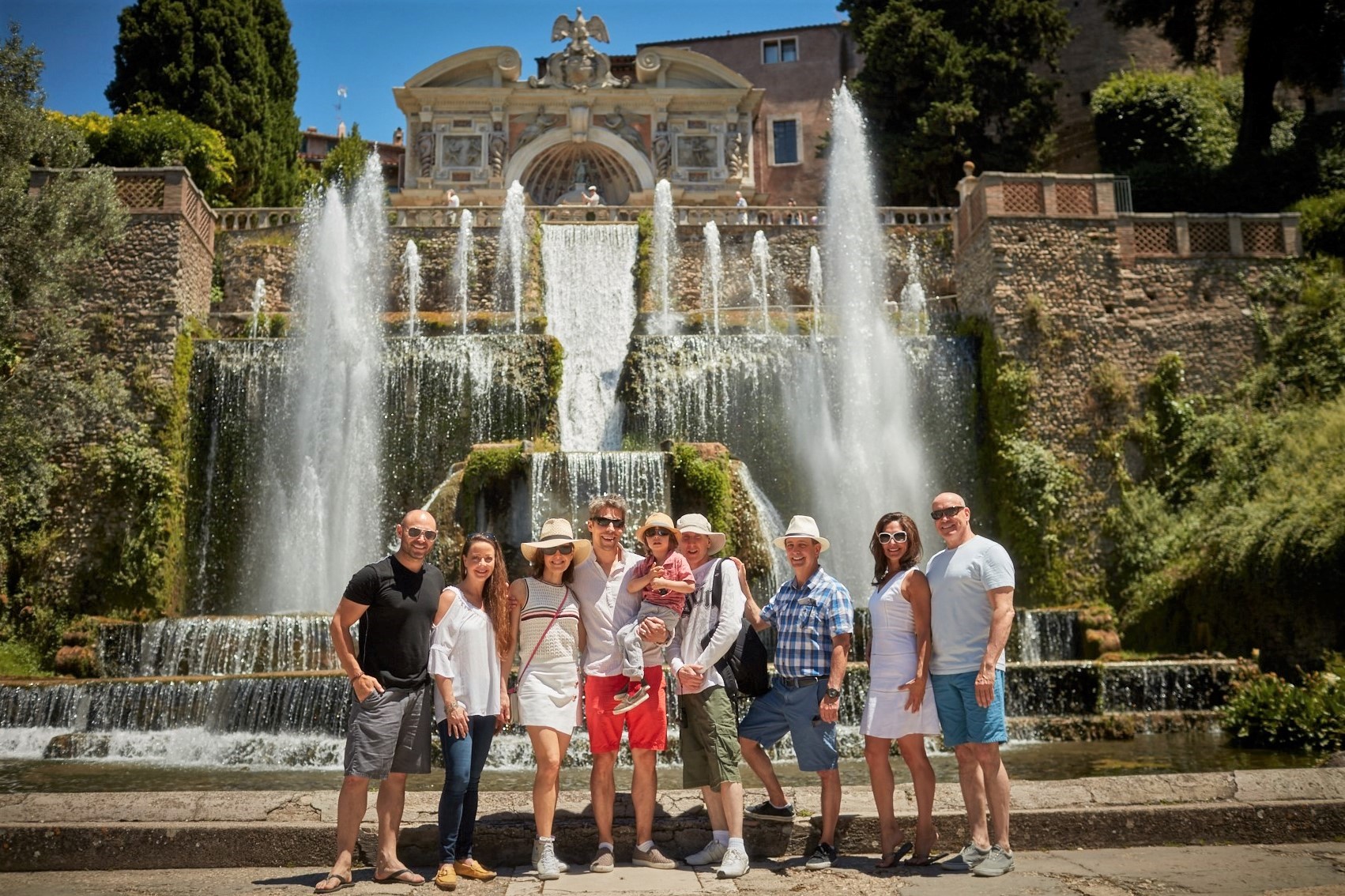 4 Secrets About Tivoli You Didn't Know (But You Will on a Day Trip from Rome to Tivoli)
Of all short tours you can do from the Italian capital, a day trip from Rome to Tivoli is one the most popular. Situated in the hills of Lazio, only about 30 kilometers northeast of Rome, Tivoli dates back to Roman times.
Its strategic setting on the Aniene River made it a preferred residence of many prominent and wealthy Romans, most notably Emperor Hadrian and the poet Horace. Later on, the town fell under papal control, which resulted in the building of many defensive structures and walls. The Renaissance brought even more prosperity and saw the construction of numerous opulent villas, of which the marvelous Villa d'Este is the most famous.
Nowadays, many of these historic and beautiful landmarks are still there and are major tourist attractions. In fact, two of them are actually UNESCO World Heritage Sites, which is quite impressive considering how small the town of Tivoli is. These places are the reason why a Tivoli day trip from Rome is such a popular thing to do. 
Let's now uncover some of Tivoli's greatest secrets. If you don't know much about this ancient town, these facts are sure to surprise you. You might even consider a Tivoli tour from Rome when you're done reading this article!
4 Secrets About Tivoli You Didn't Know (But You Will in a Day Trip from Rome to Tivoli)
1. Tivoli Is Home to a Roman Emperor's Retreat
As we mentioned in the intro, Tivoli used to be a popular retreat of Roman Emperor Hadrian. It was built in the early 2nd century as a place where the ruler could go and escape the stress of everyday life. Toward the end of his reign, however, Hadrian actually ruled the vast Roman Empire from this villa.
This huge archaeological complex is arguably the greatest attraction in Tivoli, a not-to-be-missed highlight on any Tivoli day trip from Rome. It contains numerous well-preserved buildings, as well as myriad artifacts, such as ceramics and mosaics. Hadrian's Villa is of such global importance UNESCO designated it a World Heritage Site in 1999.
2. Villa d'Este Is a Masterpiece of Renaissance Architecture
The second UNESCO World Heritage Site in Tivoli is the magnificent Villa d'Este. This spectacular 16th-century Renaissance palace was built by commission from Cardinal Ippolito II d'Este, an influential figure in Renaissance Europe. The villa was constructed in Tivoli for the very same reason Hadrian also choose this riverside town: its altitude, cooler temperature and proximity to Rome.
This massive home is now open to the public, one of the top attractions on a day trip from Rome to Tivoli. During a tour, you can visit various elaborately decorated rooms, including the Apartments of the Cardinal, the Tiburtine Halls, the Hall of Noah and the Hall of the Fountain…
…which brings us to the other part of the Villa d'Este grounds…
3. The Villa d'Este Gardens Are the Epitome of Italian Landscape Design
In addition to the stunning residence itself, the Villa d'Este also encompasses a world-renowned terraced Italian Renaissance garden. This may just be the most famous garden in Italy, epitomizing the beauty of Italian landscape design.
As beautiful as the residence's interior is, it pales in comparison with the amazing gardens. Especially the elaborate system and extensive network of fountains and other water features are responsible for the fame of Villa d'Este.
Its numbers are mind-boggling: there are more than 50 fountains, almost 400 spouts, 64 waterfalls, over 200 basins and 364 water jets. Hundreds of meters of channels and canals feed these gorgeous features, impressively operating only by gravity (there are no pumps anywhere).
The Villa d'Este Gardens also boast numerous terraces and balconies, sculptures and statues, flowerbeds, stands of trees and other greenery. It's an absolutely stunning masterpiece of landscape design, arguably the top attraction on a Tivoli tour from Rome.
4. There Are Waterfalls Flowing From a Papal Villa
You can also find water features elsewhere in Tivoli. Just to the northeast of the historic center, the Villa Gregoriana dates from the early-19th century, constructed for Pope Gregory XVI. This area is now a park, home to grottoes, trails, woods and waterfalls.
You can explore the park and see the Grand Waterfall, which emerges from underneath historic buildings and drops down a steep cliff. Additionally, there are some beautiful views of Tivoli, too.
Explore Tivoli's Amazing Attractions on a Day Trip from Rome with You Local Rome
If you'd like to see all these fantastic historic attractions in Tivoli, we can help you! We have a great day trip from Rome to Tivoli, a full-day excursion from the Italian capital to two world-class UNESCO World Heritage Sites.
You can find more details about our Tivoli day trip from Rome on this page. We'd also like to mention that both the itinerary and duration of the tour can be customized. Just tell us what you'd like to see and do, and we will create a perfectly personalized day trip.