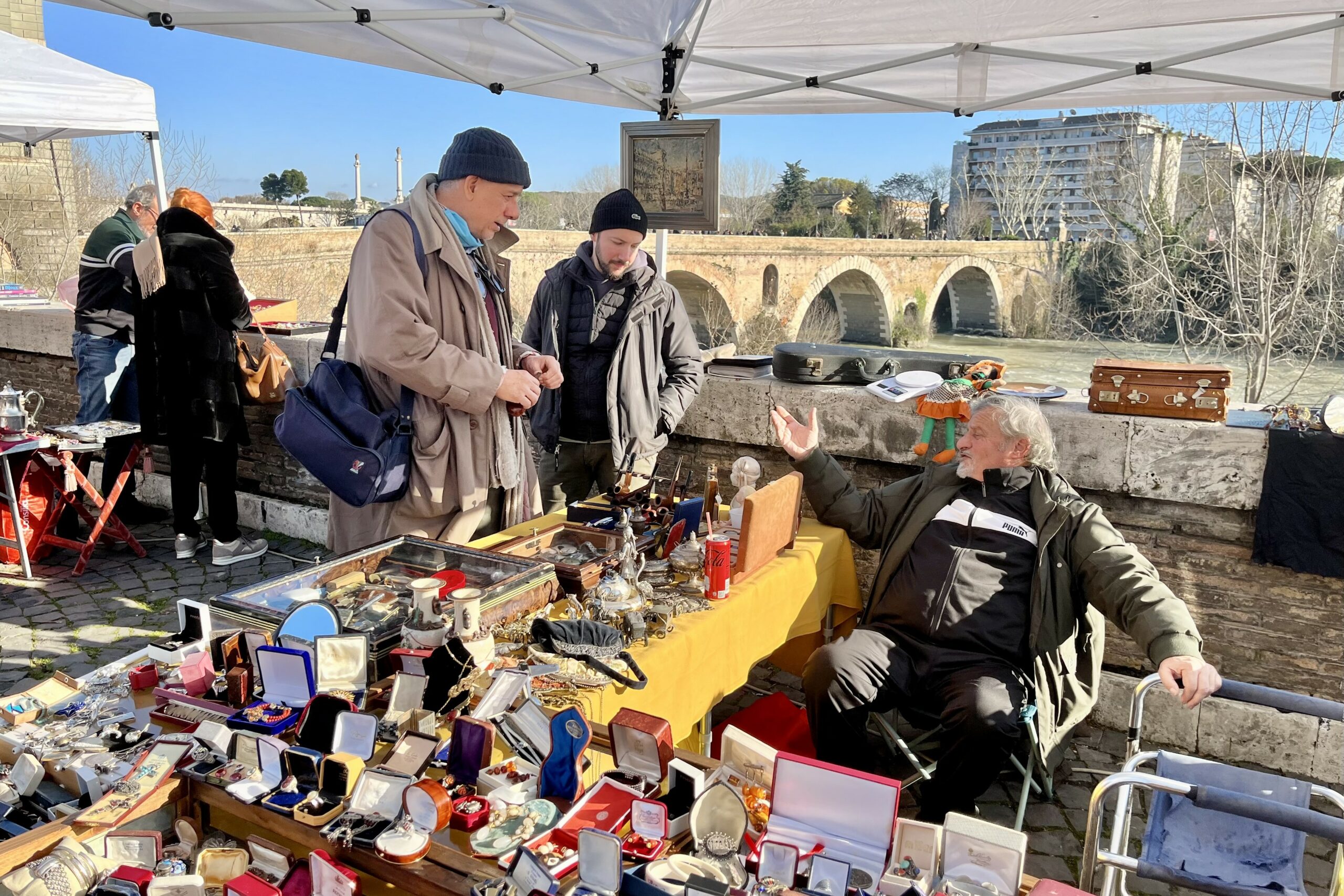 Best Flea Markets in Rome for Antique and Vintage Shopping Addicted!
Looking for the best flea markets in Rome? These are the ones that should be at the top of your list.
Some come alive on Sunday, others operate on week days. All are located in nice spots in the heart of Rome and its surroundings.
Rool up your sleeves and be ready to dig out your next great find!
1. PORTA PORTESE
Porta Portese is the most popular flea market in Rome, and one of the largest in Europe!
This Roman institution is truly loved by locals and deeply rooted in the Italian popular culture. It has been filmed in many movies and mentioned in traditional folk songs. 
Porta Portese is located by the Tiber River just south of Trastevere and hosts up to 1.000 stalls. It operates every Sunday, from 6 AM through 2 PM.
Needless to say there is something for everyone: from new and second hand clothing to vintage furniture, collectables from every decade, antiques, jewelry, and much more. 
All in all Porta Portese is a must-visit spot for flea market lovers and urban explorers alike.
Foodies tip: some stalls serve Rome street food specialties. What's better for a yummy food recharge during your shopping?
2. MERCATO DI VIA SANNIO
This is yet another historic flea market in Rome.
Locals know the place as simply as "Via Sannio", from the name of the street where the market has operated since the 1950ies.
This is indeed an old-style street market, with a special focus on second hand clothes. Also, some stalls specialize in rare military accessories and items you can not find elsewhere in Rome.
The location itself is worth a visit for its nice garden lined along the ancient Rome walls, just off St. John Lateran Basilica.
Be ready to bargain surrounded by history and saints…all in all we are in Rome!
3. BORGHETTO FLAMINIO FLEA MARKET
This great little market is an especially good spot for vintage clothing, designer pieces, and accessories. There are also a number of vendors selling vintage household items and nifty little things. 
Borghetto Flaminio is the must-visit market for those who can't drag themselves out of bed too early – since it goes until 7 PM.
Also its location – 5 min. walk from Piazza del Popolo – makes Borghetto Flaminio a perfect destination after your stroll in Rome's historic center or through the gorgeous Villa Borghese Gardens.
There is an admission charge of just under 2 euros, which actually helps to keep the small market not too crowded. Guests can also take advantage of a clean restroom and a little cafe.
For many reasons, despite of its size Borghetto Flaminio is one of the best flea markets in Rome!
Local tip: make sure to barter for your items. Vendors are expecting it and have priced their goods accordingly.
4. MERCATO MONTI URBAN MARKET [temporarily suspended]
Mercato Monti is a one-of-a-kind market in Rome.
It fact this fair was conceived in 2009 as a space where local artisans and independent designers can free their creativity in a curated environment.
Forget about junky type markets and noisy bargaining. Mercato Monti is sophisticated and on the hypster-posh vibe.
The items here are on the pricier end accordingly, but the shoppers are willing to pay to have the quality and unique pieces this fair has to offer. And Mercato Monti is a great place for unusual gifts too!
You can choose among refined craft jewels, vintage designer clothes, precious handbags, leather goods, and much more.
The market is small, all indoors and consistently popular with locals. It is held on the week ends and it's conveniently located just off the Cavour metro station.
Local tip: Monti district, in addition to hosting Mercato Monti, is home to popular vintage stores and thrift shops, especially scattered through Via Leonina, Via del Boschetto and Via dei Serpenti. Yet another great excuse to take a stroll through the coolest neighborhood in Rome and indulge in Monti's delicious street food tidbits!
5. PONTE MILVIO ANTIQUES MARKET
When you picture a traditional flea market, Ponte Milvio Antiques market would perfectly fit that description.
Here you can find vintage furniture, collectables of any kind, antiques, jewelry, unusual accessories and decorations from art deco to mid-century modern. Price ranges would fit every budget.
Ponte Milvio market is open on Sunday, from 9 AM to 7 PM, and is located 15 min. drive north of the historic center.
The location is beautiful indeed as the stalls lie on the banks of the Tiber River just south of the historic Ponte Milvio. 
To us this is absolutely one of the best flea markets in Rome!
6. FONTANELLA BORGHESE PRINT MARKET
If you want to experience history, then this market should be a stop on your list.
In fact Rome's "Mercato delle Stampe" has been in operation for decades and is located right off the gorgeous Palazzo Borghese, within walking distance of the Spanish Steps.
This unique place in Rome specializes in vintage prints, drawings, postcards, photos, books and ancient engravings, along with other rare pieces of art.
With only 15 curated stalls Fontanella Borghese Print Market is small and cozy, making it the perfect stop for a treasure hunt during your stroll in the heart of Renaissance Rome!
Operating days: from Monday through Sunday, 10 AM – 7 PM (closed in August)