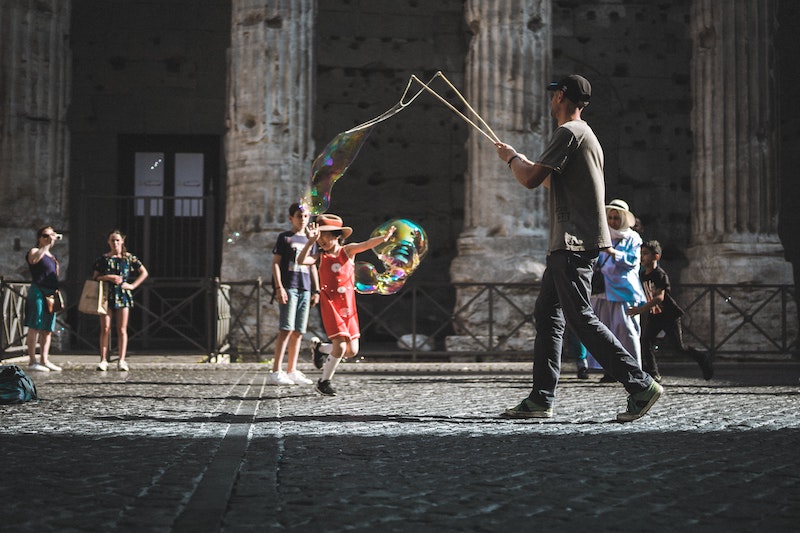 Rome family tours: a journey through legends and history. Meet your tour guide Maria Teresa
Inspiring Rome family tours to experience the Eternal City with your kids in a fun and carefree way: Maria Teresa is one of the passionate tour guides of You Local Rome.
But Maria Teresa is not just a "normal" tour guide: she's way more! She creates top-notch experiences to engage the whole family. She designs tours for small kids, adolescents and adults alike. After the graduation in Art History and Archeology, she has gained 15 years of experience in the field, specializing in custom and private Rome family tours.
| Keep reading: Things to do in Rome with kids: the ultimate parents' guide |
But what makes a tour for your family so special and unique? We know your expectations as a family first hand, so we tried to dig in some crucial aspects that cannot miss out during your time in Rome. Discover our Rome family tours behind the scenes, reading this exciting interview!
Thank you Maria Teresa for being with us today!

What are the main aspects to keep in mind when planning Rome family tours?
A lot of tourism companies organize kids tour in Rome. But how many of them design balanced and thought-through Rome family tours that address the needs of the entire group? We'd like to point out that all our tours are entirely customizable, depending on the wishes of all members of the family.
Our Rome family tours are tailored:
For kids and their entertainment
For their parents or relatives who want to enjoy the same moment!
The tour should be fun and light, both for adults and kids. Telling a story is paramount! Storytelling is the common thread which ties our day together with a family: intriguing stories, historic conspirators, gladiators and legends will bring you back in time.
An example? When we visit the Vatican Museums, I usually take the kids to the Egyptian section: they are all thrilled to see the mummies! And then there is the reward for the adults to see the Sistine Chapel, which is directly connected from the Egyptian section through an aisle. The key is to strike the right balance!
As a tour guide specialized in Rome family tours, how do you prepare the experience to inspire both kids and grown-ups?
We use mostly interactive learning material support, such as:
3D books: kids can dive in this world!
Colored Illustrations: they support craftsmanship!
3D glasses: that are fun for adults, too! 😉
Another aspect to take into consideration is what kids are learning in school when they visit Rome: addressing some kind of topics they are already used to will lead to a different and aware enthusiasm.
Depending on the age and school level, we prepare our Rome family tours by studying entire learning units and dossiers in order to approach the kids and to see how we need to deal with their specific age. Every time is a challenge, and we want to make the most out of it!
Which is your favorite tour? Is there a tour that you particularly recommend and that every family should undertake?
My favorite tour is the experience combining storytelling and trekking on the hills of Rome, especially winding on the Palatine hill: here the first stone to build Rome was laid. Kids are always very fascinated about the history of the foundation of Rome.
Slowly the family discloses every legend and step of Rome's history. This tour is a mix of outdoor and history, because we walk discovering the beauty of Rome and on the top of the hills we talk a little about archeology.
| Keep reading: Fun things to do in Rome with kids: 6 good reasons to book family walking tours |
Last but non least, we can also create your dream tour of Rome from scratch. There are families who have already been to Rome and have specific ideas, others that are here for the first time. Of course iconic spots such as the Colosseum cannot miss in this case. But our tours try always to give another "secret" glimpse out of the bustle and hustle of the beaten paths.
Because going on a guided tour for us no longer means ticking off a list of tourist attractions and dragging tourists from one spot to another, following a flag!
How can you involve kids and engage them?
Kids want to listen to stories, to be taken across a journey of legends and fun facts they can remember. And at the end they need to have a goal: a gift, a reward, for making it through the story, as a path to victory. It could be a gladiator gadget or a 3D postcard from the Colosseum.
They are playing a game with you, and you have to keep them hyperstimulated!
What are the curiosities and the history fun facts that kids like the most?
As I said before, Egyptians and the history of Rome, such as Gladiators fights, are history facts that fascinate kids.
For example, during our Rome family tours, we try to write their names using hieroglyphics. A lot of them send me their works of art even after the tour!
Treasure hunts inspire kids and adults alike. Finding the cross on the obelisk or the symbol on the portal is something that keeps them engaged. And while doing it, without noticing it, they are learning!
What are you working on for the future?
We are working on new projects that embrace the world of the Capitoline Museums. This venue is sometimes overshadowed and less-known, but it houses treasures spanning from the ancient Rome till nowadays, passing through Michelangelo and Bernini.
We are also renovating our experience at the Gladiator School, after the Colosseum tour, to adapt to new modern times.
Eventually, we are trying to design more interactive tours based on multimedia e neurosciences techniques, always striving for the best. How can we create the best Rome family tours that combine education and fun? This is our main challenge for the future.
Cannot wait to embark on intriguing and exciting Rome family tours? Check our bestsellers or write us to make your dreams come true!