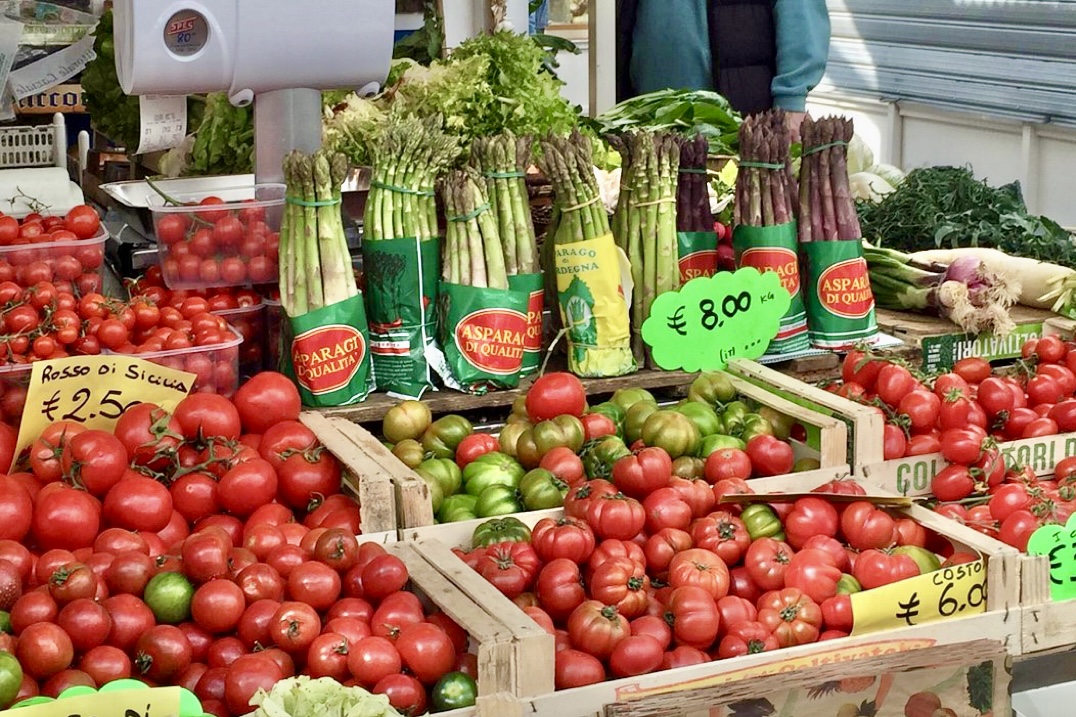 Rome Street Food – A Journey through Testaccio Market
Local markets are a way into a country's soul. In the case of the Testaccio Market, this is a way into Rome's flavors. Here, all senses are alert. You can smell the fresh, local, and seasonal products like vegetables, fruits, and delicious pizza. You can smell local wines, sniffing fruity, sweet, and earthy notes. In the market, you must also try some of the best Rome street food since you can find bakeries, bistrots, and even French toast.
Open from Monday through Saturday and from 7am until 3:30pm, this market is the ideal place to go on a shopping spree, enjoy lunch, and fresh fruit for a snack. And, thanks to our Rome food tour Testaccio, you will get to experience both the neighborhood and the market.
Testaccio Market history
Its history is, in a way, the history of Rome. The market moved into its current location in 2021. In the 1990s and early 2000s, the neighborhood looked abandoned and many construction projects had to stop because workers kept finding Roman ruins. Even below the old location of the Testaccio market. The new location is a modern and subtle building. With over 200 stores, a surface area of over 5000 square meters, and a commercial gallery, this market is the perfect place to spend your morning or afternoon.
This is a big open space with an exclusive feature: the archeological area. In fact, the modern project of the Testaccio Market brings to light the Roman ruins. Engineers and architects built around them and visitors can also enjoy this area. However, currently this part of the market is only open on Tuesdays and with a reservation. Each detail and material respect Rome heritage. But it looks at the future thanks to projects like Porta Futuro (Future Door), an innovative lab for technology and young people.
At Testaccio Market, generations meet. And they can dine together. Why not?
Rome Street Food: what you can find at Testaccio
This is one of the best food districts in Rome, the capital of gelato, pizza, and delicious snacks. But, with so many stands and vendors, you might not know where to begin. So, let's take a look at some of the best 14 stands in the market.
If you are looking for an authentic Italian meal, then you can have your pick at stands that serve pasta, pizza, and anything in between. So, carb lovers unite. Especially at box 58, where you can find "Le Mani in Pasta". This is an artisanal laboratory where chef Alessandro and his team focus on simple ingredients and handmade pasta like the ravioli. Everything is made fresh daily, perfect with any sauce. On the other hand, at box 90 you can find "Antico Forno" where owner Artenio prepares fresh bread, pizza, and even sweets like tarts. If you are looking for pizza, look no further than CasaManco at box 22, a family business focused on healthy choices like whole wheat flours. And, for pasta, try Altro at box 77.
Keep reading: foodie lovers unite. These are the best food markets in Rome. For real.
The best Rome street food is on the go. That's why there is "Mordi e Vai" at box 15, where Sergio Esposito offers the best of local cuisine. But in a small bite, the perfect sandwich-sized bite with ingredients such as fried meatballs, sausage, and pecorino cheese. Similar yet different is the choice made by the family at box 21 Rosa. This stand offers the best Roman fried food and the piadina, a flatbread filled with delicious ingredients. For a more international taste, you can't miss Food Box at box 66 where you will find typical Italian delicacies like baccalà, but you will also find global dishes like the Venezuelan arepas.
So far there is: pasta, pizza, and street food like sandwiches. However, at Testaccio Market you can also find culinary surprises that only the best Rome food tour Testaccio can unravel. For example, seafood lovers can't miss Mastro Papone Bistrot at box 96, where Romina prepares pasta, fried options, and even grilled ones. On the other hand, Corrado at box 18 is a must for wine lovers that can taste the best regional options. Then, of course, there is always time for a coffee or an aperitif at Max Caffè Piazzetta at box 102.
Now, the belly is truly full. There is no better way to discover the market and the city than with our Street Art with Food Tasting tour. This is the best Rome food tour Testaccio and beyond.