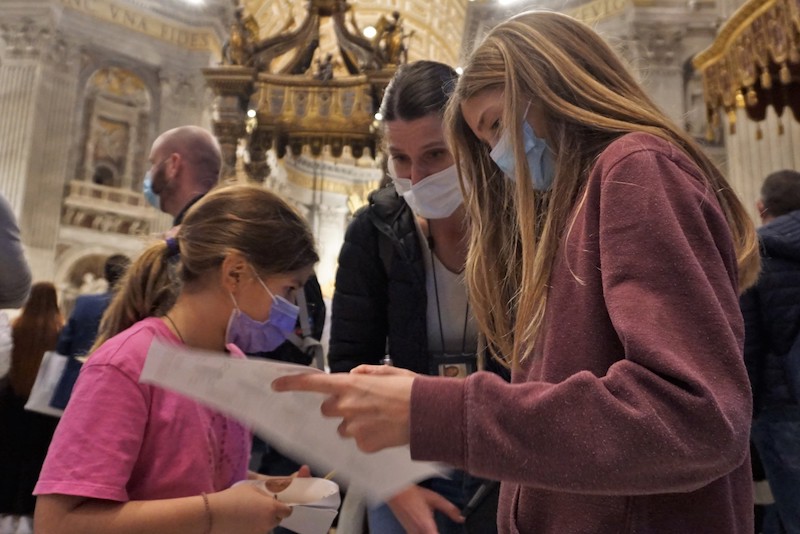 How to safely travel to Rome with children during Covid-19
Are you tirelessly surfing the web to better understand how to travel safely to Rome with children? Are you all of a doodah about the arrangements? You're not alone! Because let's be honest: choosing to travel during COVID-19 times can be bewildering, it's really hard to see the forest through the trees. Restrictions and new travel recommendations change constantly: what are the main safety guidelines and restrictions? What COVID-19 testing do I need – and when?
Generally, relying on a local source can give you valuable advice to plan your trip with peace of mind.
We are here to support you: let's get in touch!
Rome is a city to discover once in a lifetime, especially with your family: Rome with children is a unique experience! Of course, traveling during uncertain times is daunting, but not impossible!
In this article, let's shed light on safety measures and information you need to know before planning a trip to Rome with children. You can follow these few practical steps to ensure that your trip will be fun, safe and stress-free!
Rome with children: inquire about travel restrictions
Unfortunately, we know it, COVID-19 is still spreading across the world, since new variants are emerging. Although, Italy is entering a new phase of living with the virus in a business-as-usual way, trying to minimize its impact thanks to the vaccination campaign.
So safety and social distancing are still paramount, but Italy is not on lockdown, and it hasn't tightened restrictions. Restaurants and hotels are welcoming vaccinated visitors in a safe and chill atmosphere.
Here are the main things to know if you'd like to come to Rome.
Arrival in Italy
Fully-vaccinated travelers must provide a negative test result – 24 hours before departure (for antigen-tests) or 48 hours before departure (for PCR-tests).
In addition to the pre-departure test, unvaccinated travelers must quarantine for five days on arrival, and then take a test to move freely. People who are not vaccinated are facing more restrictions daily (see below).
Complete the EU Digital Passenger Locator form before departure.
During your stay
You need to show your "green pass" before entering attractions, events, public transport, museums, restaurants, cafés and hotels. This is the EU Digital Covid Certificate valid throughout Europe which proves your vaccination: certifications issued abroad are also accepted. Children under 12 do not have to show the certificate.
Masks are mandatory in shops, restaurants, public transport and all other indoor public spaces. They are also required in crowded outdoor areas, such as markets and main shopping streets. It is better to use always a FFp2 masks, because it is compulsory to wear it on public transport, at the cinema and on the planes.
Rome with children: Common sense and things to keep in mind
On top of travel restrictions, there are some good practices to keep in mind to travel safely and make the most out of your trip.
Last minute and spontaneous travel hasn't gone away, but when you decide to book, it's better to cover all aspects of travel: not only your flight and your hotel but also activities on site. Planning ahead gives you the opportunity to be guided by travel experts, to avoid crowds and long cues at museum ticket offices. Skip-the-line tickets and walking guided tours can be booked in advance through our website!| Keep reading: Planning some Family Tours in Rome? Here Are 5 Do's and Don'ts |
Maintain a distance of 2 meters between you and others and try to avoid crowded places, wash your hands often and limit to touch handrails, buttons and surfaces the least possible. Contactless payments are the best options!


At You Local Rome every booking is processed online so that you can avoid cash contact.

Be updated: Ask your travel expert to keep you updated on new travel advice and restrictions during your stay.
The Ministry of Foreign Affairs and International Cooperation has created a useful questionnaire to provide users with general information on current rules related to travel to/from Italy.
For other reliable and official sources of information: read more here Health Ministry for travelers
---
It's true, COVID-19 travel restrictions make things complicated for travel passionates. But remember that travel advice and restrictions are precautions and measures to minimize COVID-19 impact, helping people travel and lead a normal life again.
That's why it is important to rely on a local partner to safely travel to Rome with children. We can give you the best travel advice you cannot find online, design the best safe guided tour and give you tips to stay away from the crowds.