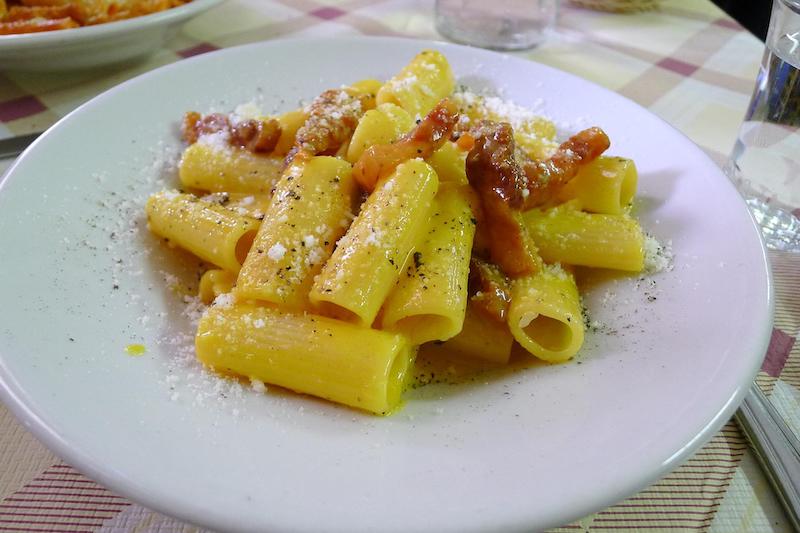 Trastevere Food Tour – where to eat the best carbonara
Trastevere food tour is something to experience once in a lifetime: in Trastevere time seems to stand still. Just walk through the narrow alleys to immerse yourself in the Roman soul and…food!
Today we'll talk about Her Majesty, the Carbonara! Carbonara is a simple dish, made with poor ingredients such as pasta, eggs, "guanciale" (cured pork jawl), pecorino romano cheese and lots of pepper. In Trastevere there are many restaurants and trattorias where you can taste excellent carbonara.
It is said that American soldiers, during the Second World War, tasted the pasta "cacio e ova" (cheese and eggs) from Abruzzo prepared by the "carbonai" (carbonari in Roman dialect) in the territory of L'Aquila and from here the name "carbonara" could be born.
Where to eat the best carbonara on your Trastevere food tour
We have collected some of the best trattorias in Trastevere where to eat carbonara.
In the heart of Rome, or rather in the heart of the alleys of Trastevere, there is Proloco Trastevere (via Mameli 23). The carbonara of Proloco Trastevere has been elected by Gambero Rosso as the best carbonara in Rome.
Always in Trastevere and precisely in Via Natale del Grande 52, we find Eggs. Here you can taste one of the best carbonaras but do not miss the "strappazzo" or also called "walking carbonara", which is a golden carbonara and fried, which is then inserted on a stick and you can eat at the table or walking!
Da Teo is a historical trattoria in the heart of Trastevere (Piazza dei Ponziani 7A), yet far from the tourist crowds.
Definitely one of our favorite places to taste traditional Roman cuisine and one of the best carbonaras! Enjoy a nice and casual atmosphere and do not to miss their "tortino di puntarelle and buffalo mozzarella" and delicious homemade desserts.
Sora Lella in Via di Ponte Quattro Capi, 16 features a top-notch menu and the highest quality products. The carbonara has been handed down for many years, and they have never changed the true traditional recipe, so if you want to eat a historical carbonara, here you are in the right place.
To be continued…
Keep reading:
Join our Trastevere Food Tour to eat the best Carbonara ever!