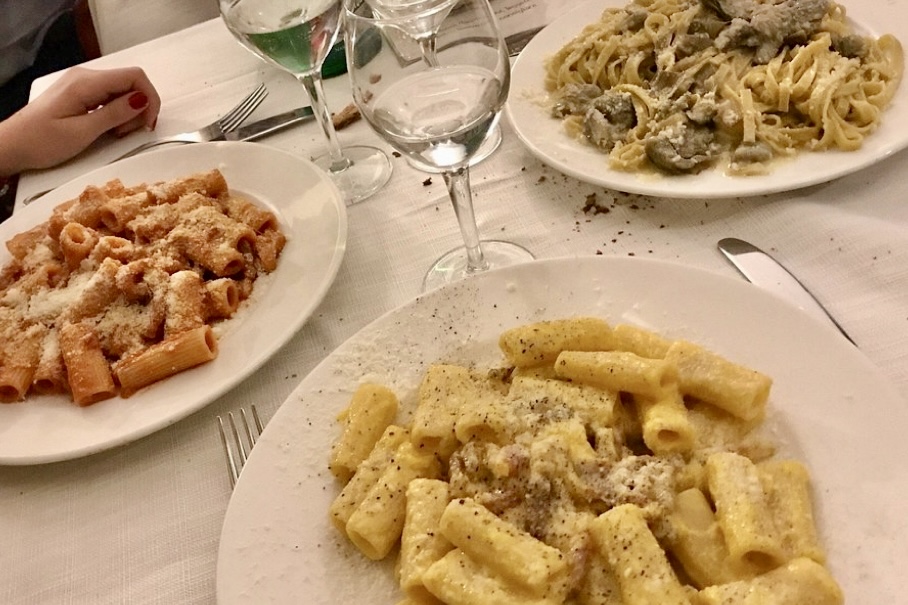 Our Favourit (non-touristy!) Trattorias in Rome
As proud locals we love to share tips and recommendations for you to enjoy the best trattorias in Rome.
Here's a list of our favorite family-run spots to taste Roman specialties in nice locations at a great value for money. 
Buon appetito! 
1. TRATTORIA DA TEO
Da Teo is a historic trattoria in the heart of Trastevere, yet far from the tourist crowds!
Definitely one of our favorite places to taste traditional Roman cuisine in a nice and casual atmosphere. 
Not to miss their "tortino di puntarelle and buffalo mozzarella" and delicious home made desserts!
Booking is recommended as the place is consistenly popular with locals.
2. LA TAVERNA DEI FORI IMPERIALI
Cosy, family-owned trattoria in Via della Madonna dei Monti, a few steps away from the Imperial Forums. 
At the Taverna dei Fori Imperiali perfectly executed Roman dishes are served in a beautiful venue by a very professional staff.
Weather permitting you can seat outdoors and enjoy the magical atmosphere of Monti, one of the best districts to go out in Rome!
Hot tip: go for the best pasta all'amatriciana (a tasty sauce made of tomato, pecorino cheese and cured pork jawl) and coratella alla Romana in Rome!
3. DA ARMANDO AL PANTHEON
Da Armando is one of the best trattorias in Rome's historic centre.
Family-run and traditional style, they serve authentic Roman specialties at a moderate price, since 1961! Definitely worth a visit for a great food recharge during your sightseeing across the Pantheon area.
We recommend you make a reservation (especially for dinner), since the restaurant is small and consistently popular with both locals and tourists.
4. FLAVIO AL VELAVEVODETTO
A truly unique location escavated inside the Monte Testaccio, Ancient Rome "dump" where terracotta jars used to be collected after use.
This fascinating trattoria has also a nice outdoors to enjoy traditional local specialties (pasta cacio & pepe and Roman style saltimbocca are absolutely worth trying!) and great local wines.
Booking in advance is highly recommended, especially on the weekends, as this is one of the best trattorias in Rome.
5. SALUMERIA ROSCIOLI 
Salumeria Roscioli is a must visit place for big foodies and one of Rome best trattorias.
Family owned since mid-19th century, it's located in the heart of Renaissance Rome, few steps away from Campo de' Fiori Market.
The cozy store hosts a fabolous deli shop (where you can find some of the best Italian wines, cheeses, cured meats, olive oils, balsamic vinegars, etc.) and a delicious restaurant where you can taste traditional Roman specialties and fine charcuteries.
Being a really small venue, it is highly recommended reserving in advance. 
6. CUL DE SAC 
Historic winebar-trattoria founded in 1977 and located in a cozy square, two minute walk from Piazza Navona.
Warm atmosphere, quick and informal service, great selection of charcuteries, cheeses and wines (more than 1500 labels!).
That's not all though…Cul de Sac also serves traditional Roman dishes (stewed oxtail, Roman-style tripe, pasta all'amatriciana), along with great house specialties (snails with green sauce, home made ravioli, meatballs, etc.). 
7. SORA MARGHERITA 
Founded in 1927, Sora Margherita is a precious sanctuary of Roman culinary tradition.
It is located in a cosy square in the heart of the Jewish district. A great setting to taste unparalleled Roman delicacies daily prepared only with season ingredients.
Tips: do not miss Sora Margherita's deeply fried artichocks ("carciofi alla giudia"), grilled lamb ribs ("abbacchio alla scottadito"), Roman-style tripe ("trippa alla romana") and a mouth watering cake with ricotta cheese and cherry jam ("torta con ricotta e visciole").
Definitely one of the best trattorias in Rome!
8. LA FIASCHETTA 
La Fiaschetta is a cozy and authentic Roman trattoria. A real gem a stone's throw from Campo de 'Fiori, in the splendid setting of Via dei Cappellari.
Absolutely recommended for lovers of local cuisine and good wine, La Fiaschetta boasts a large cellar and even a small oil shop, with the opportunity to taste and buy excellent olive oils.
Special mentions for an exceptional pasta alla gricia (made with crispy cured pork jawl and creamy pecorino cheese) and the very delicate polpette al pomodoro (meatballs with tomato sauce)!
In short, there are many reasons to try La Fiaschetta, one of the best trattorias in Rome on the border between the ancient Regola and Parione districts.
9. GINO AL PARLAMENTO 
We move a stone's throw from Piazza di Montecitorio, house of the Italian Chamber of Deputees.
Here, since 1963 Gino al Parlamento has delighted the palates of tourists, locals and… parliamentarians, who often celebrate their lunch break in this temple of Roman cuisine.
The atmosphere is cheerful and convivial. Walls and ceilings are decorated with colorful frescoes from the 1970s, which recall bucolic views of the Roman countryside.
But the most important thing at Gino's is certainly the cuisine: there are few places in the historic center of Rome that offer high quality traditional dishes at such reasonable prices.
Do not miss – when available – the rigatoni con la pajata. This is a 100% Roman specialty for brave foodies only! Basically the pasta is abundantly seasoned with tomato sauce, Roman pecorino cheese and "pajata". This is a Roman dialect term for the intestines of an unweaned calf, i.e., only fed on its mother's milk.
10. RISTORO DEGLI ANGELI 
Ristoro degli Angeli is 100% local and runned by talented passionate hosts.
Such a charming trattoria is tucked away in Garbatella, a unique post-industrial neighborhood with quaint alleys and secret gardens.
Don't miss a stroll through the lovely district before heading to Ristoro degli Angeli. Here you'll taste Roman classics with a touch of creativity, all paired with great wines.
The area is easily accessible by metro (just 3 stops from the Colosseum) and is worth a visit for those who want to experience something truly authentic and off the beaten track.
Keep reading our blog and find further tips for the Best Pizza in Rome and the Best Rooftop Bars in Rome!
| Contact us to reserve the best Food Tours in Rome |