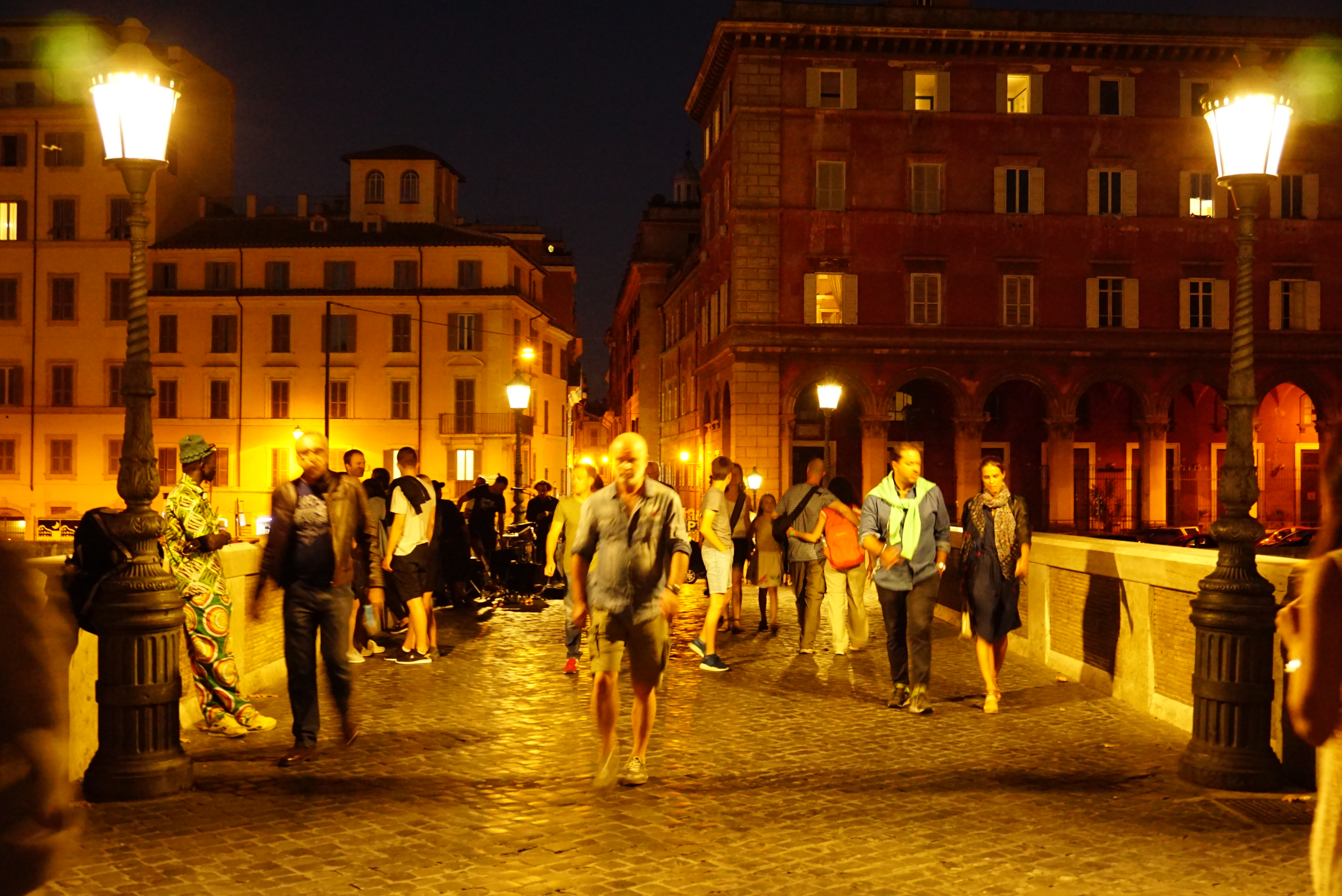 The 5 Best Districts to go out in Rome
Insider tips to enjoy the Roman nightlife at its best, with locals…like a local! Contact us for any further info or if you wish to plan a special event during your stay.
1. PIAZZA NAVONA AND CAMPO DE' FIORI
Both located in the very heart of Rome's historic center, five minute walk distance from each other, Piazza Navona and Campo de' Fiori are not just top highlights to visit during the day, but also lively and truly romantic "urban living rooms" at night!
They both are deeply loved by locals and represent a perfect backdrop for a great nighttime experience in Rome. 
According to tradition, people of all ages get together in these wonderful squares at the sunset to enjoy a relaxing aperitivo, before heading for dinner to one of the charming winebars and local-style restaurants nestled in the cosy alleys all around. 
2. TRASTEVERE
Taking a stroll through the back alleys of Trastevere at nighttime is a must for both first time visitors and experienced lovers of Rome!
Artisan workshops, charming wineries and traditional trattorias are spread all around the elegant, central Piazza di Santa Maria in Trastevere. and the quiter Piazza di Santa Cecilia.
Young locals usually meet at the closeby Piazza Trilussa, where you can relax sitting on the steps of a beautiful, baroque fountain.
In summertime lively nightlife rises also on the Tiber's banks – between the cosy Tiberina Island and the beautiful Ponte Sisto – where temporary wine bars and restaurants pop up, local artisans set up their stands with fashionable clothes, hand-made jewels, yummy sweets and much more!
3. MONTI
Monti is a hidden gem squeezed between the Roman Forum and Termini station.
Full of great trattorias and wine bars since the ancient Rome era – when the district used to be known as the "Sub Urbs" and normally associated to wild nightlife, gambling and barely legal leisure – Monti has recently become one of the most hip districts in Rome.
Young locals, innovative designers and artists from all over Rome gather every night (especially on the week end) in the central, cosy Piazza della Madonna dei Monti (aka thePiazzetta) to socialize and cheer up.
All around there are plenty of nice winebars, local restaurants and live music clubs to enjoy the best Rome nightlife has to offer!
4. TESTACCIO
Founded in the late 19th century to accomodate the growing working class of Rome, Testaccio has recently become a lively and trendy district, while it still conserves a deep popular soul.
You can still find plenty of great, family run restaurants serving traditional Roman specialties, along with new, fancy winebars and clubs where young locals love to spend their nights!
Most of the bars, discos and live music clubs are located around the Monte Testaccio, really close to the gorgeous Testaccio Market. These sights represent the beating heart of such a unique district.
Definitely worth a visit, if you want to discover a less touristy and truly fascinating side of Rome!
5. PIGNETO
Probably the most artsy and innovative district in Rome, Pigneto is a hidden jewel nestled just outside Rome's historical center.
Born after the unification of Italy (1870) as a new neighborhood for the growing working class of Rome, its look has deeply changed in the past twenty years.
Thousands of students, immigrants, artisans and young artists have moved into the ruined buildings and cosy homes flanking the winding streets of the area.
Over the years, the local atmosphere was turned into something different and more vibrant. Basically a melting pot of old and new Rome. Infact, historical workshops have been flanked by modern urban laboratories, and local artists and start-ups have been supported by modern co-working stations.
All in all. something definitely worth experiencing for visitors who want to explore the real Rome off the beaten track!
Lastly, also a lot of great restaurants and cosy winebars have been recently settled in the area, most of which offer local, organic products, traditional and innovative Roman cuisine.
For instance, tasting a delicious aperitivo at Necci is certainly a great way to get your night started, before moving to a charming restaurant or a live music club across the central Via del Pigneto…