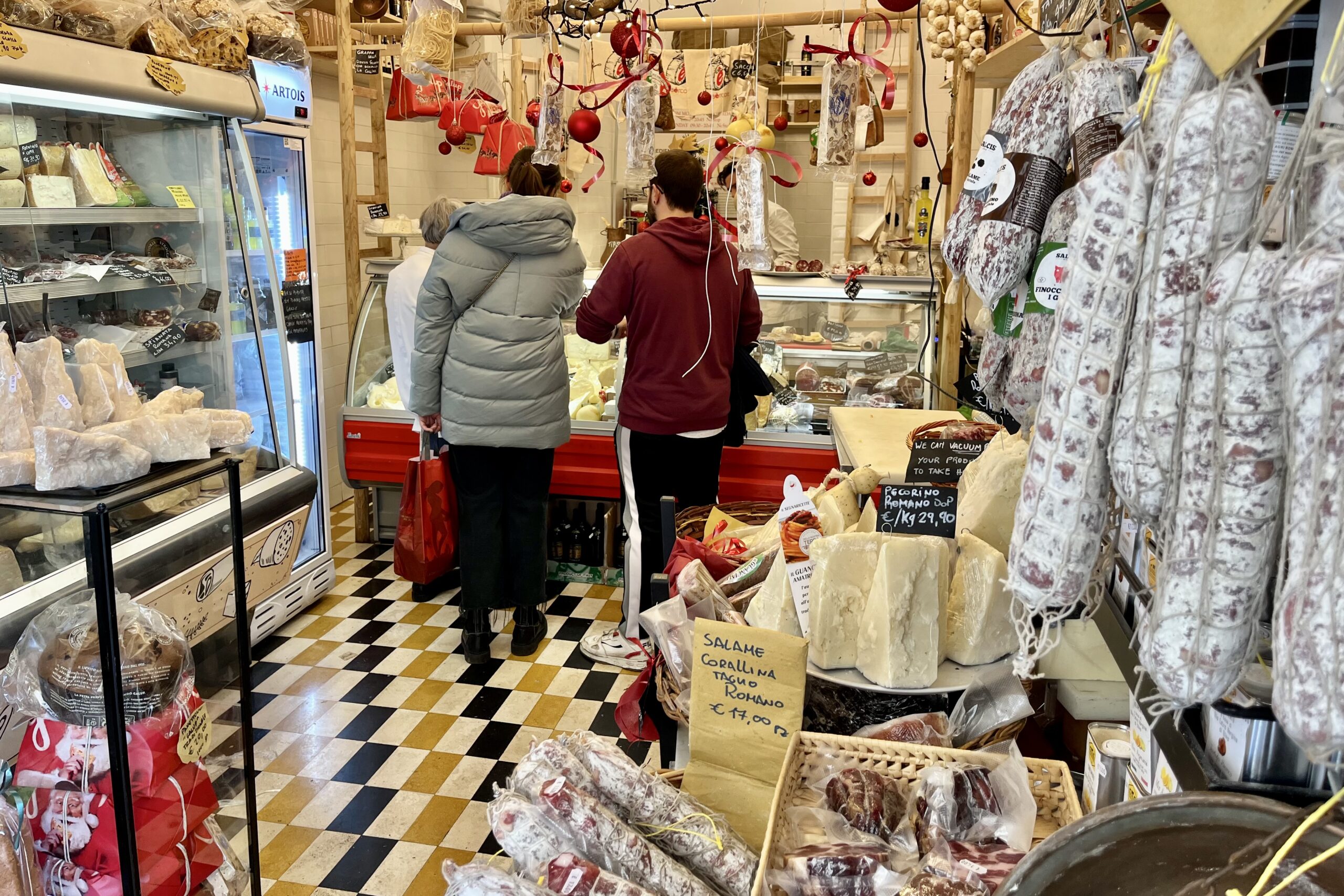 The Best Delis and Gourmet Food Shops in Rome
Where to find the finest ingredients and culinary specialties in Rome?
Here's a list of our favorite delis and gourmet food shops in Rome for big foodies and curious urban explorers along.
Pick your spot and buon appetito!
1. PACIOTTI
Paciotti is definitely one of the best delis in Rome, just a few minutes walk from the Vatican.
Founded in 1970 by Antonio Paciotti the store is nowadays runned by his three sons who are great professionals and amazing hosts.
As you step in you immediately realize this is not a simple food store but rather a precious boutique where food specialties from all over Italy are carefully selected and beautifully displayed.
Ask your hosts for the freshest cheeses, from juicy buffalo Mozzarella to creamy Burrata, aged Parmigiano Reggiano and much more. Paciotti's selection of salumi is impressing as well and you can smell delicious Prosciutti di Parma hanging all around the place to finalize their slow seasoning.
Some of Paciotti's items can be purchased online as well.
2. VOLPETTI
Volpetti is a local institution in Testaccio and to us one of the best gourmet food shops in Rome.
Here you can find delicious cured meats, seasoned and fresh cheeses, top notch wines, fresh truffles, dried mushrooms, legumes and even traditional cakes and desserts!
This family run business is consistently popular with locals and 100% trustworthy for tourists along who look for authentic culinary products.
Insider's tip: for those who can't help sampling local specialties right on the spot, Volpetti features a bunch of tables within the shop venue!
By the way Volpetti is located in Via Marmorata, just a few minutes walk from the historic Testaccio Market where one of our Food Tours takes place.
3. ERCOLI
Established in 1928, Ercoli is a mile stone in Rome for big foodies.
From the location that started it all in Prati to the modern elegance of the Parioli shop and the newly opened space in Trastevere, Ercoli is a trusted name for those who love to eat and drink well.
The three different locations welcome the public every day from morning until night, from regular grocery needs to those little special somethings.
Tip for travellers: Ercoli is the perfect place to pick precious food gifts for your beloved ones!
4. SALUMERIA ROSCIOLI
Settled in the heart of Renaissance Rome, Roscioli is doubtless one of our favorite food shops in town.
Here you can pick the best Italian specialties, from tasty cheeses to cured meats, award-winning wines, olive oils, aged vinegars and much more. Vendors are friendly and glad to give you samples.
For a fully immersive experience at Roscioli you may also opt to eat at the table or alongside the showcases surrounded by shelves overflowing with pasta, rice, preserves, cookies, sweets, coffee, liquor, spices, legumes, teas and anything else you can dream of in terms of great food. Make sure to book in advance as the place is small and conistently popular with both locals and tourists!
Last but not least, a few meters from the historic Salumeria Roscioli features a great bakery named Forno Roscioli. By the way this is a must-stop of our Rome Food Tour starting from Campo de' Fiori Market. Do not miss it!
5. ANTICA CACIARA
Founded in 1900 (!) Antica Caciara is a family run, old style food shop in the very heart of Trastevere.
Among plenty of mouth-watering food specialties here the king is the Pecorino Romano cheese, also known as Cacio in Rome (hence the name of this place). This is the key ingredient for some of the best Roman pasta, from Tonnarelli Cacio e Pepe to Bucatini all'Amatriciana, just to mention a couple.
Listening to the owner's tips at the Antica Caciara is not just a grocery shop thing but rather a fascinating way to deep dive into local culinary traditions still carried on by passionate artisans.
If you are a big foodie you may also consider to join our Trastevere Walking Food Tour, a fun and informative way to know more about Trastevere and its food secrets. You'll also get a chance to visit the historic San Cosimato Market, one of the Best Food Markets in Rome!
5. CASTRONI
Since one century ago Castroni is a synonymous of coffee and quality food for Romans.
Infact this family run business was started back in 1932 by Umberto Castroni with a small shop in Prati (which still exists). Over the following decades four generations of Castroni opened new shops all around Rome with one single target: providing Romans and visitors along with high end food specialties carefully selected in Italy and abroad.
A special mention for Castroni's coffee, which is artisanally prepared (selected, mixed and toasted) at the family owned Torrefazione Augusta before being distributed to Castroni's current thirteen shops in Rome.
All in all for those looking for the best wines, liquors, olive oils, sauces, jams, rare spices and other delicacies in Rome Castroni is definitely a must visit place.
6. EATALY
Eataly is something different from the family run delis recommended above.
Infact this is not exactly a small gourmet shop selling local specialties but rather a large mall specializing in Made in Italy food delicacies.
Eataly's modern 16.000 square meter four-storey facility is housed inside the former Ostiense Air Terminal designed by the major Spanish Architect Julio Lafuente.
Strolling through Eataly's departments, eateries and countless stands is a one-of-a-lifetime culinary experience as the offer covers the very best of gourmet food specialties from all over Italy.
Nowadays Eataly features popular shops in several cities in Italy (Milan, Florence, Turin among the others) in the USA (New York and Chicago), Northern Europe and Middle East.
Local Tip: this is a great place to pick a special gift on the spot or through the online shop. Eataly's products can be delivered almost everywhere in the world!
Keep reading our blog to taste the best of Rome…according to Locals!