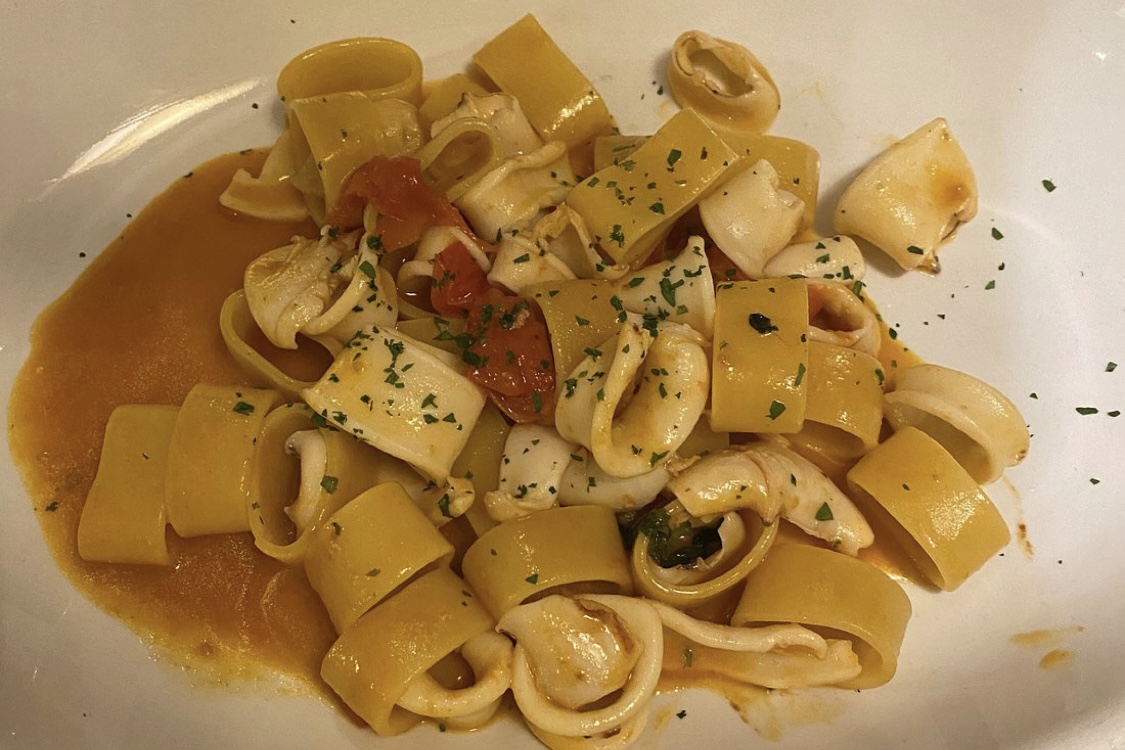 The Best Seafood Restaurants in Rome
As proud Romans and big foodies we do love sharing tips and recommendations for great food experiences in our home city.
Here's a list of our favorite Seafood Restaurants in Rome, spread around the historic center and its surroundings. 
Enjoy!
1. BENITO E GILBERTO
Benito e Gilberto is one of the best seafood restaurants in Rome and for sure one of our favorites!
Set a few steps away from St. Peter's Square, in the heart of Borgo district, this place has served delicious seafood from the 1950ies (!) in a charming venue. And at a great value for money.
Booking is recommended as Benito and Gilberto is consistenly popular with both tourists and locals.
2. PIERLUIGI
Pierluigi is a mile stone in Rome for big foodies and seafood lovers.
Conveniently located a short walking distance from Campo de' Fiori, this historic restaurant is the perfect choice for a romantic dinner or a special event in the Eternal City.
Here you can taste some of the best fish carpaccios and pastas with seafood in Rome, all paired with the finest Italian and International wines. 
Weather permitting you can seat outdoors and enjoy the magical atmosphere of Piazza de' Ricci, a hidden gem in the heart of Renaissance Rome.
3. OTTAVIO
Ottavio is located close to the Basilica of Santa Croce in Gerusalemme and it's considered by locals one of the best fish restaurants in Rome.
Its elegant venue is the ideal setting to savor perfectly roasted fresh fishes, juicy tartares and lucullian platters of raw scampi, prawns and lobsters.  
Desserts are home made and top notch.
Making a reservation a few days in advance is highly recommended.
4. TEMPIO DI ISIDE 
Tempio di Iside is a true Roman institution for seafood lovers.
Its large and curated venue is located at the feet of the Colle Oppio, a few meters distance from the Colosseum, where you can still admire the remains of the ancient Rome temple dedicated to Isis, the Egyptian goddess of fertility (hence the name of this great restaurant).
Here the menu features the very best of Mediterranean cuisine and varies daily according to the freshest ingredients available.
Dress up and be ready for a once-in-a-lifetime culinary experience at Tempio di Iside!
5. CAPO BOI 
To us Capo Boi is one of the best seafood restaurants in Rome.
Its classy yet cozy venue is located a few minutes drive North of the historic center, just off the unique Coppedè district.
Consistently popular with locals, Capo Boi serves outstanding crudi (raw marinated fish) along with a large variety of pasta with seafood and Sardinian specialties.
A couple tips: do not miss the super thin and crunchy pane carasau bread as a starter and the yummy seadas with cheese and honey for dessert!
Keep reading our blog for more Food Tips…to taste Rome at its best!
| Contact us to reserve the best Food Tours in Rome |