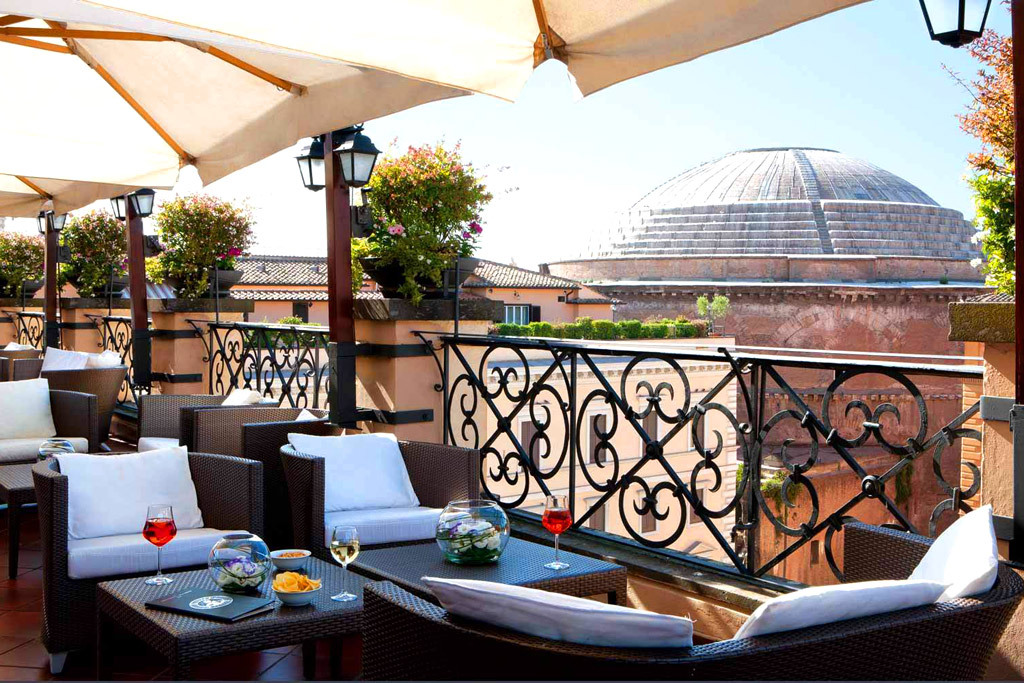 Rooftop Bars in Rome. The Great Beauty at your Feet!
ROOFTOP BARS IN ROME – Updated 07.09.20
Dreaming of a delicious aperitivo at sunset overlooking the Domes and Palaces of the Eternal City? Fancy a unique place to celebrate a special occasion? You are in the right place then!
We at YouLocal have personally visited the Best Rooftop Bars in Rome and we are glad to share with you a list of our favorites. All are located in the historic center and normally operate from April to October. Some of them are open all year around. Be sure to give them a call to make sure of the opening times.
We wish you a great time and feel free to contact us for any further info to pick the right Rooftop Bar in Rome.
Enjoy!
1. Minerva Roof Terrace – Grand Hotel De La Minerve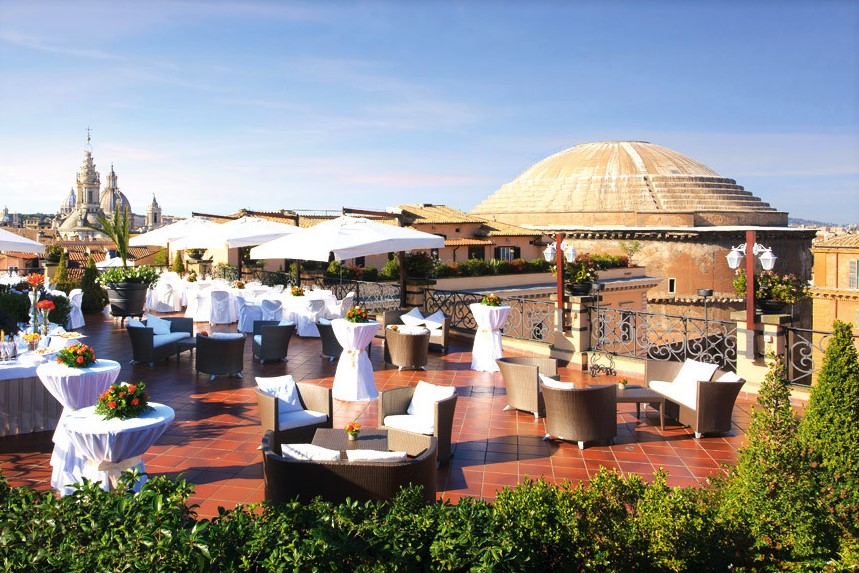 Nestled on the rooftop of a spectacular hotel, Minerva Roof Garden is the ideal setting to sip a glass of Prosecco or a special drink at sunset, while enjoying amazing views over the Pantheon and Rome's historic center. Definitely one of the best Rooftop Bars in Rome!
---
2. Il Giardino Bar – Hotel Eden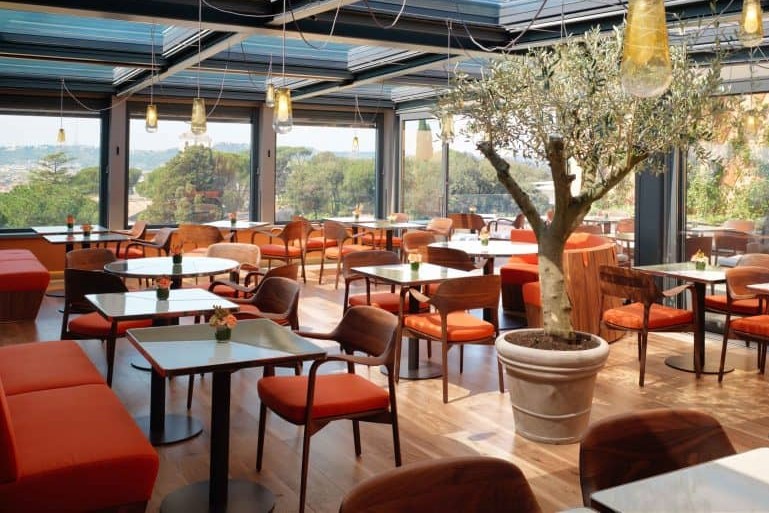 A true gem few minutes walk from the Spanish Steps. Having a drink at the Rooftop Terrace of the Hotel Eden is a one-of-a-kind experience. You can enjoy outstanding views of Rome in a cozy atmosphere, with a 5-star service. 
---
3. Terrazza Borromini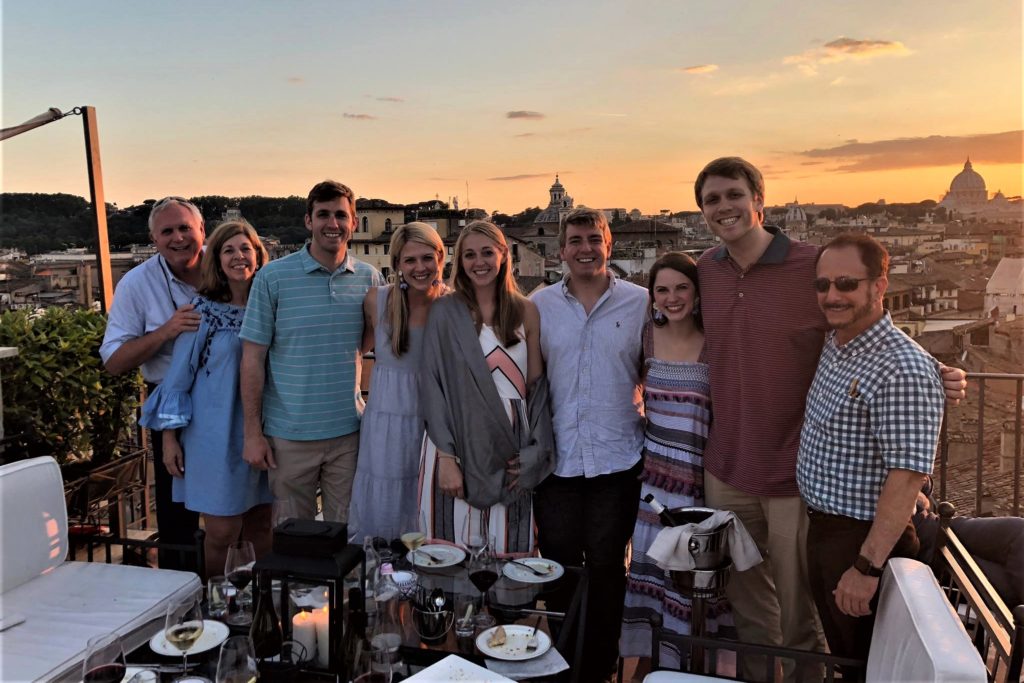 Settled on top of the gorgeous Palazzo Doria Pamphilj, overlooking Piazza Navona, Terrazza Borromini is a place you'll never forget. Definitely worth a visit to relax after a busy day of sightseeing. As the picture shows we often take our guests to the Terrazza at the end of our tours!
---
4. Hotel Forum – American Bar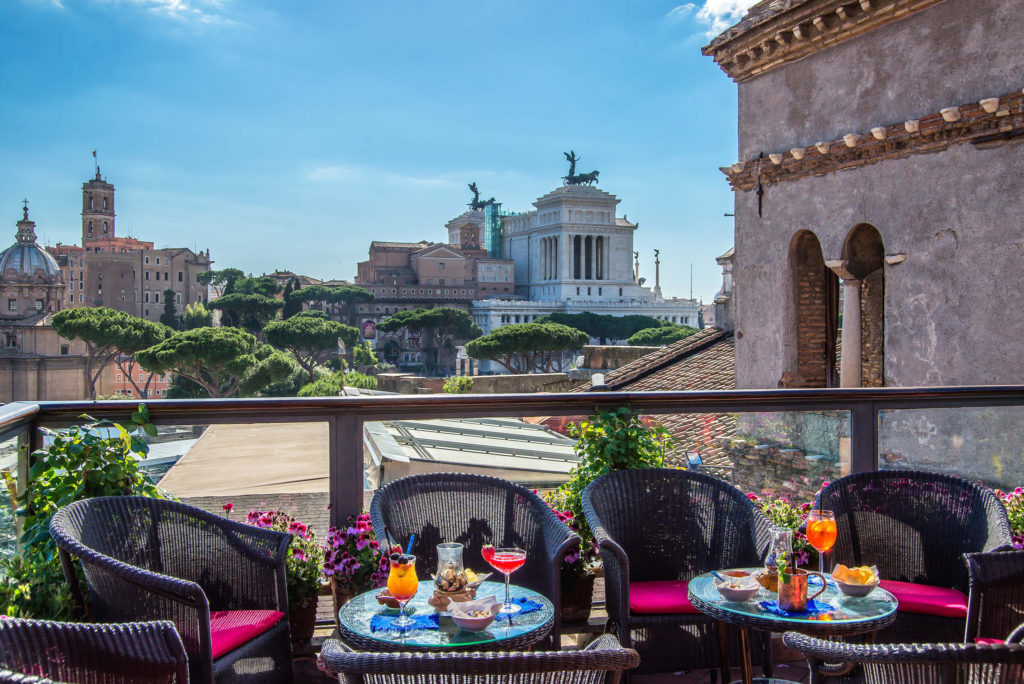 Hotel Forum hosts a stunning Rooftop American Bar with the best views over the Roman Forum and Capitoline Hill. The perfect setting to enjoy a glass of wine after visiting the wonders of Ancient Rome! Click here for more info about our guided Tours of Ancient Rome.
---
5. Zuma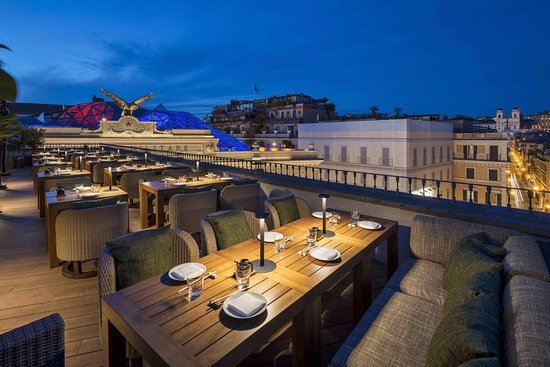 Fancy atmosphere and great views are guaranteed at Zuma, a spectacular Rooftop Bar and Restaurant located atop "Palazzo Fendi". Perfect choice for a delicious cocktail or a special dinner, few steps away from the Spanish Steps. Dress up and dive into La Dolce Vita!
---
6. Rooftop Jim's Bar – Singer Palace Hotel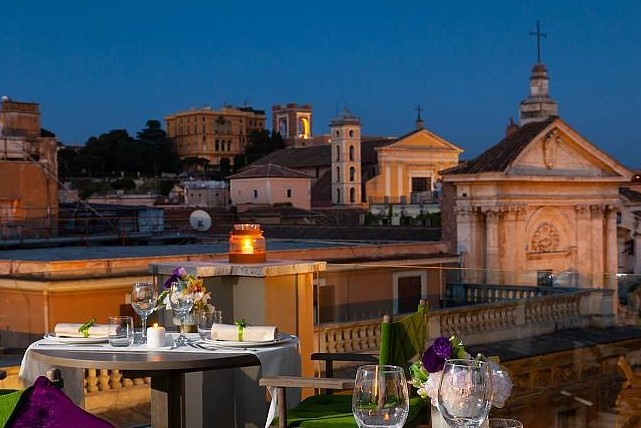 A true hidden gem in the heart of Rome! Singer Palace is a cosy boutique hotel really close to Piazza Venezia. Its terrace houses one of the most elegant Rooftop Bars in Rome, where you can enjoy delicious cocktails and home-made finger food specialties. Highly recommended!
7. Forty Seven Circus Roof Garden

In the heart of Rome, with breathtaking views of the Tiber Island and the Mouth of Truth, the 47 Circus Roof Garden is a must-visit place. The large and bright terrace features one of the best Rooftop Bars in Rome and a delicious gourmet Restaurant!
8. Radisson Blu Rooftop

Radisson Blu Hotel is strategically located a stone's throw from Termini station and boasts a spectacular terrace with multiple views of Rome. The highlight of the hotel is a splendid swimming pool surrounded by the bar-restaurant. Just a perfect setting for your Summer cocktails or for a Romantic dinner!
9. Hotel Cesàri – Rooftop Bar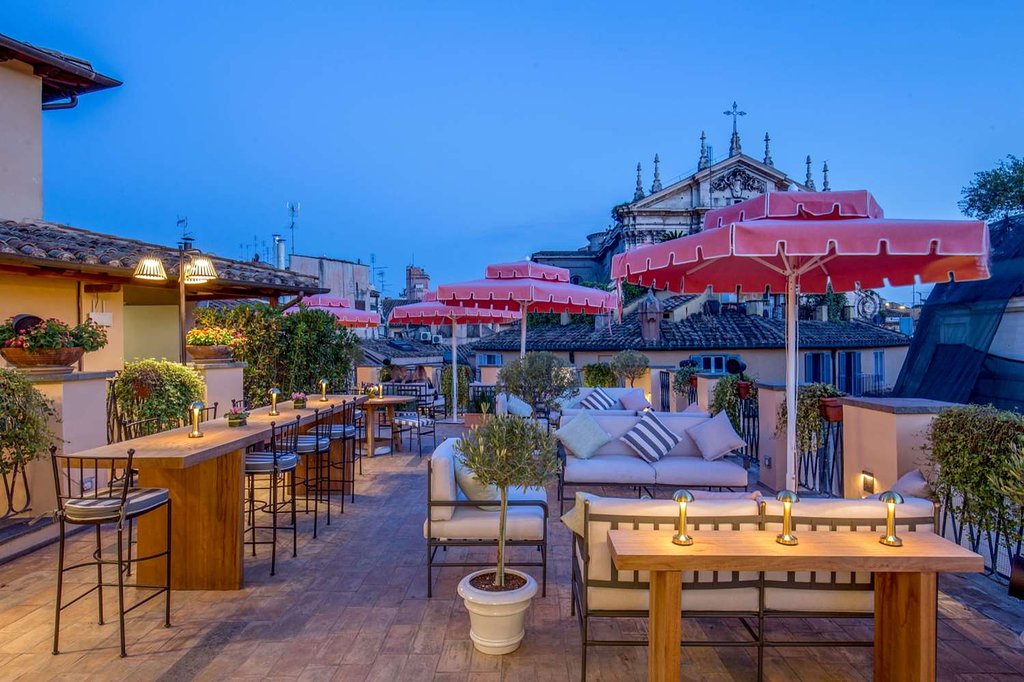 Hotel Cesàri is one of the oldest hotels in Rome. Settled in the heart of the city, halfway between the Pantheon and the Trevi Fountain, the Hotel houses a beautiful panoramic terrace overlooking the Church of Sant'Ignazio. Definitely one of our favorite Rooftop Bars in Rome, where we often take guests with pleasure at the end of our walking tours!
10. Otivm – Rooftop American Bar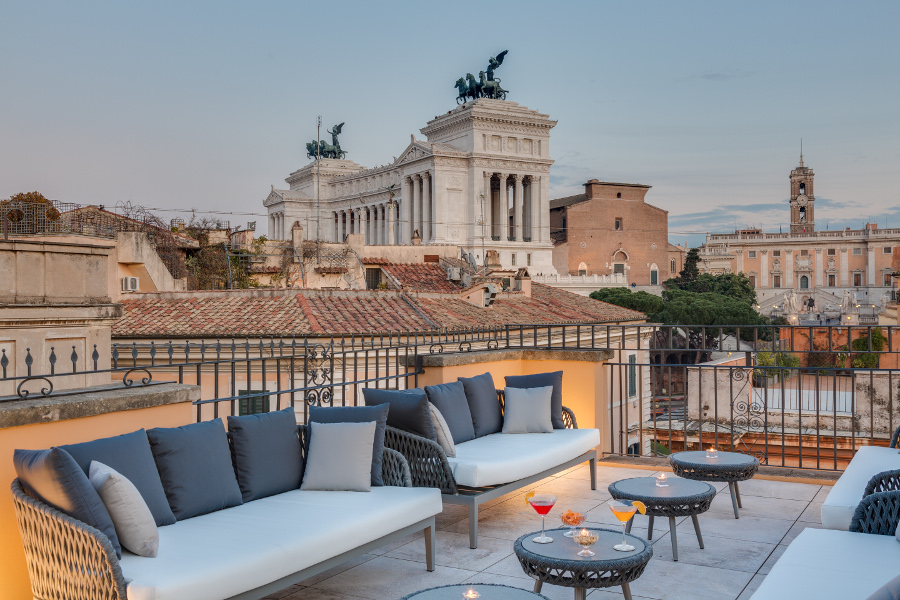 Speaking of the best Rooftop Bars in Rome, Otivm is a delightful boutique hotel at the foot of the Capitoline Hill and houses a unique panoramic terrace with a 360 degree view of the city. Ideal location to sip a good cocktail after a walk in the center or before enjoying the Roman cuisine of the nearby Ghetto. By the way, here you can find a list of our favorite trattorias in Rome!
Not satisfied yet? Have a look at our list of Rome's Best Winebars & Bistros then. Enjoy!