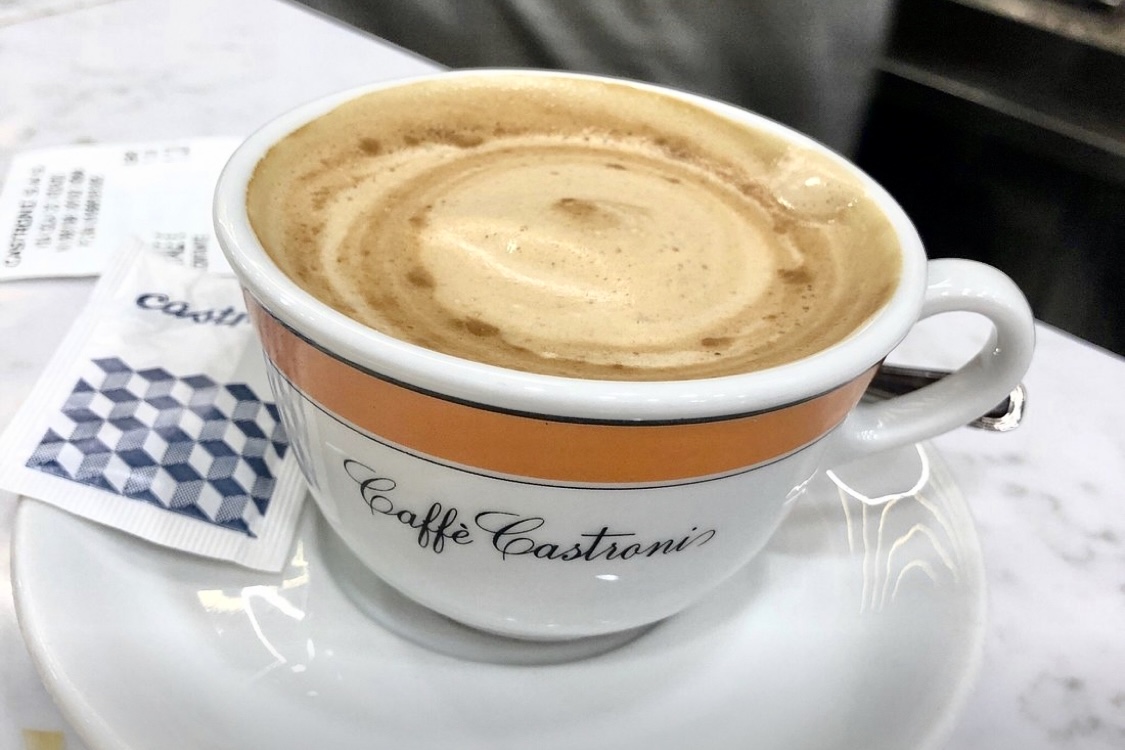 Best Coffee in Rome: Local Tips for must-visit Cafés and Coffee Shops
Coffee break is a sacred rite in Rome and throughout Italy. 
Locals have their favorite coffee bars to celebrate such a special rite, often more than once a day.
It's not just a coffee sipping thing but rather a lifestyle habit. Be ready to find out why as you step in our favorite Cafés and Coffee Shops, must-go spots for the Best Coffee in Rome!
1. SANT'EUSTACHIO
Sant'Eustachio is one of the most popular Coffee Bars in Rome.
It has been around since 1938 with its cozy and colorful shop by the Church of Sant'Eustachio (hence the name), within walk distance of the Pantheon. 
Sant'Eustachio is a classic retro-style Italian bar where you step in for a quick break and sip your short and intense espresso at the counter.
In Summertime do not miss Sant'Eustachio's granita al caffè con panna (crushed ice flavoured with coffee and topped with freshly made whipped cream). You'll love it!
This is a great spot also to make a special gift as Sant'Eustachio's artisanally produced coffee selections are packaged in nice gift boxes along with other coffee-based sweet treats.
2. TAZZA D'ORO
Antigua Tazzadoro – La Casa del Caffè al Pantheon dal 1944 is another must-visit spot in Rome.
It's nestled in a cosy alley a few steps away from the Pantheon. Consistently popular with both Romans and tourists the place is crowded all day long but still well worth a visit for a quick coffee recharge and a unique local experience.
Tazzadoro signature coffee blends are artisanally roasted and shipped worldwide, making it an excellent example of Roman craftsmanship. 
3. ANTICO CAFFE' GRECO 
Heading to the Spanish Steps through the elegant Via dei Condotti you'll step by one of the oldest Cafés in Rome.
Believe it or not Antico Caffé Greco dates back to 1760 (!). Its charming rooms have welcomed refined visitors since the era of the Grand Tour (1700 – 1800) when aristocratic families and renowned artists from all over the world used to visit Rome as a major inspiring city.
Each room here is finely decorated and embellished with unique pieces of art making the Caffè Greco a must-visit for foodies and art lovers along.
As you can imagine sipping a coffee at this place or tasting a delicious pastry is a once-in-a-lifetime experience!
4. CANOVA
Yet another Roman institution for true coffee lovers!
Canova Coffee Bar was settled in 1952 in Piazza del Popolo, one of the most beautiful squares in Rome. It has been a locals' favorite since then due to its unrivaled location and charming venue. 
Here you can taste one of the best coffees in Rome but also delicious sweet and savoury specialties.
Sitting at the outdoor tables is a great experience as you can enjoy the view of Piazza del Popolo at its best!
Extra tip: Caffè Canova is named after Antonio Canova, major Italian Neoclassical sculptor who used to live in the area. The famous artist also owned a splendid atelier in Via del Babuino, then inherited by one of his favorite pupils: Adamo Tadolini. Well, this place still exists and nowadays houses a one-of-a-kind Restaurant – Tea room. Its name is Museo Atelier Canova – Tadolini and its tables are uniquely surrounded by original sculptures and plaster models by the two artists. Do not miss it!
5. ROSATI
Right across the Caffè Canova in Piazza del Popolo there is another historic caffetteria in Rome: Bar Rosati. 
This family-run business dates back to 1922 and serves one of the best coffee in Rome.
You can pick the classic espresso or cappuccino or personalize your choise as most locals do. There are countless variants worth a try, from the simple caffè macchiato (a little milk is added to the espresso) to the yummy affogato (a spoonful of vanilla or chocolate ice cream is dipped in a cup of coffee) and the alcoholic caffè corretto (few drops of grappa or anice liqueur are poured in the coffee), just to mention a few.
Rosati also serves delicious pastries (check our guide to the best pastry shops in Rome!) and full meals for lunch and dinner. Basically you can visit this place at any time.
Local tip: Rosati is located at the footstep of the enchanting Pincio Terrace within the Villa Borghese Gardens. Do not miss a walk to the terrace at sunset to enjoy some of the best panoramic views of Rome!
6. CIAMPINI
Ciampini is a name that every Roman knows. In fact this local family has worked in the food world in Rome since the 1940ies.
Ciampini Coffe Shop and Bistrot was moved to Piazza di San Lorenzo in Lucina in 1989 and -thanks to its nice outdoors- it has quickly become a locals' favorite salotto (sort of "urban living room").
Among Ciampini's regular visitors there are many politicians, since both the Palazzo di Montecitorio -where the Italian House of Deputees is located- and Palazzo Chigi -seat of the Italian Government- are closeby. 
All in all this is a great place for a coffee break, a quick lunch recharge or a great aperitivo during your sightseeing in the very heart of Rome!
7. TROMBETTA
Caffè Trombetta's history started in 1890 with a small roaster and coffee shop strategically located just off Termini, Rome's central railway station. 
The store is still there -and is a must-stop per travellers passing by Termini- while the family business has hugely grown over the years and nowadays Trombetta is considered a key players in the Italian coffee market.
Trombetta's coffee is produced at a modern facility just off Rome and shipped all over the world. Several products are also available at the online shop, where you can pick classic coffee packages (mostly arabica and robusto) along with signature blends and a large array of coffee pods.
To us Trombetta is definitely one of the best coffees in Rome!
8. CASTRONI
Since one century ago Castroni is a synonymous of coffee in Rome.
Castroni coffee is artisanally produced at the family-owned Torrefazione Augusta and distributed through thirteen shops scattered around Rome city center, and online.
This family business started in 1932 with a small shop in Prati (which still exists). Over the following decades four generations of Castroni opened new stores with one single target: providing both locals and visitors with the best coffee in Rome along with rare spices from all over the world and food specialties carefully selected in Italy and abroad.
Check our post on the best delis and gourmet food shops in Rome for further info!
9. SAN CALISTO
Bar San Calisto is a local institution in Trastevere since 1969.
Its retro-style and unpretentious shop is located in the iconic Piazza di San Calisto, a super popular gathering place among Romans and the large International Community based in Trastevere.
Bar San Calisto serves great coffee, sweet treats and other specialties. You can have a sit outdoor to enjoy some people-watching or simply sip your coffee standing at the counter as most locals do. 
This place is definitely a must-try if you are strolling through the enchanting alleys of Trastevere or heading to the nearby Chiesa di Santa Maria in Trastevere.
Last but not least, Bar San Calisto is one of the stops of our Food Tour in Trastevere!
10. CAFFE' MARZIALI
Caffè Marziali is a historic and truly nice coffee bar in the heart of the elegant Salario-Trieste district.
The current shop in Via Po is located close to the place where the Marziali family settled its first coffee roasting facility in Rome…one century ago! 
Locals love this place for the laid-back yet very professional service and for the curated venue where you can sip delicious coffees paired with yummy croissants, biscuits and pastries. Great spot for a quick lunch too! 
By the way Marziali also features a charming restaurant in Piazza Caprera. Check the link below for full info.
11. PALOMBINI
Palombini is located a 20 min. drive South of Rome city center, in the modern Eur district (well served by Metro B line).
It is considered one of the best cafés in Rome since 1963 when it was inaugurated to serve local workers and conference attendees (Eur is a major congress district).
Palombini's large venue houses a great coffee shop along with a sophisticated patisserie and a good restaurant.
If you are in the area to visit Eur major landmarks (the "Colosseo Quadrato" above all) or to attend conferences, exhibitions or other events at the historic Palazzo dei Congressi or at the modern La Nuvola Conference Center do not miss a visit to Palombini for a great coffee break or a yummy treat!
Keep reading our blog to get the very best out of your Food Experience in Rome. You'll find plenty of Tips for the Best Local Bakeries, Trattorias, Pizzerias, Wine Bars in Rome, and much more! 
| Contact us to reserve fully personalized Food Tours in Rome! |