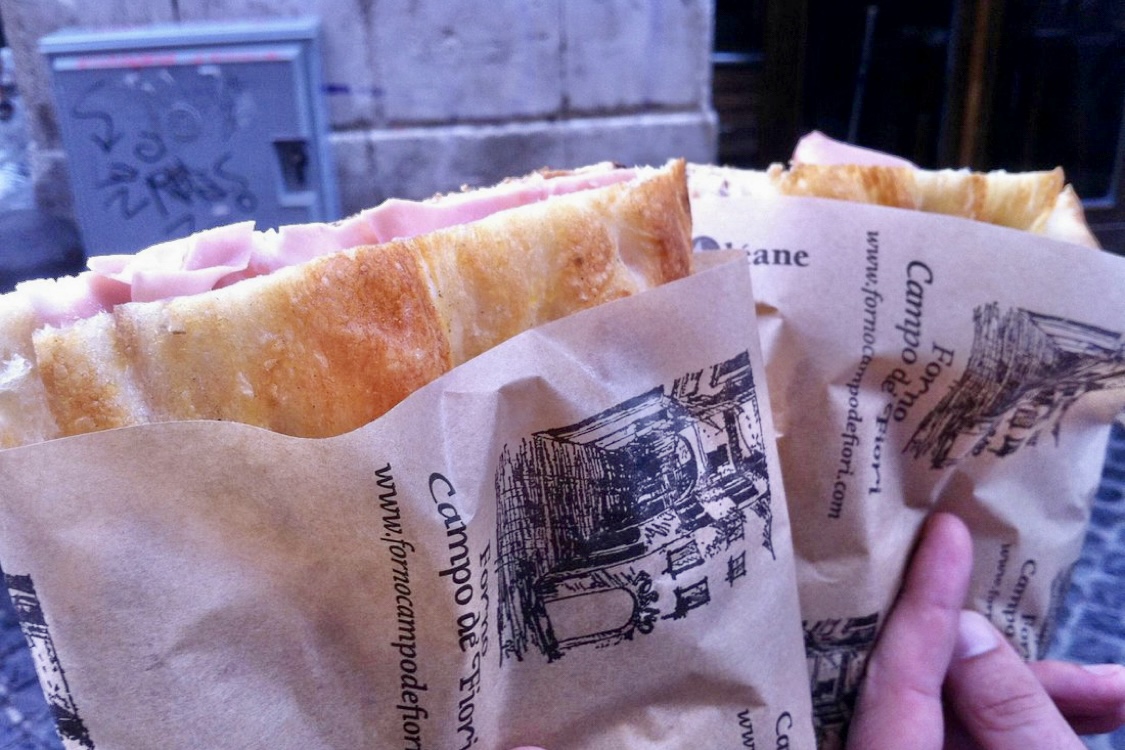 A Local Guide to the Best Bakeries in Rome
Looking for the best bakeries in Rome? Then you are in the right place!
We have cherry-picked historic "forni" and "panifici" where to find the best local-style breads, crunchy pizzas and further savoury specialties. 
For those with a sweet tooth, do not miss our tips for the best "pasticcerie" (pastry shops) in Rome.
1. FORNO ROSCIOLI
Roscioli is a true institution for big foodies in Rome.
The historic bakery is located within walking distance of Campo de Fiori. Here you can find delicious breads and pizzas by-the-slice, along with other savoury -and sweet- treats. 
Just a few meters away from Forno Roscioli you can step into Salumeria Roscioli, one of the best gourmet shops in Rome. Here you can indulge in some of the best Italian specialties, from tasty cheeses to cured meats, award-winning wines, olive oils, aged vinegars and much more. 
Roscioli is a must-stop of our Rome Food Tour. Do not miss it!
Address: Via dei Chiavari, 34 (Campo de' Fiori area)
2. ANTICO FORNO CAMPO DE' FIORI
Yet another foodies' milestone in the very heart of Renaissance Rome. 
The Antico Forno Campo de' Fiori has been baking out delicacies since late 1800! Nothing has changed since in terms of quality and customer care. In fact as you step in this charming old-style shop you'll immediately breathe in mouth watering smells and a unique sense of hospitality.
A special mention for the local pizza bianca, so simple, crispy and fragrant. Get a slice of freshly baked pizza bianca con la mortadella (a locals' favorite pork cured meat) and you'll feel in heaven! Definitely one of the best pizza by the slice in Rome.
Address: Campo De' Fiori, 22 – Vicolo del Gallo, 14
3. PANIFICIO BONCI
Panificio Bonci is unanimously considered one the the best bakeries in Rome.
This place is truly loved by both locals and tourists along, who can also taste Bonci's famous pizza by-the-slice at Pizzarium, a yummy pizza shop within walking distance of the Vatican Museums.
The success of this bakery relies on high-end produce and Gabriele Bonci's strong charisma and great expertise in the baking art. Over the year Gabriele has become one of the most popular bakers in Italy -also thanks to numerous TV shows- and he is nowadays expanding his business in the USA.
Address: Via Trionfale, 36 (Vatican area)
4. LA RENELLA
Historic bakery in Trastevere, La Renella has been making delicious breads, biscuits and pizzas to go since 1870!
Its shop is located in a cosy alley just off Piazza Trilussa and is a popular stop for both locals and tourists for a quick pizza ripiena recharge (tasty  white pizza filled with different salumi, cheeses and vegetables).
At La Renella you can also find a large variety of small and big size breads. Particularly good here is the classic rosetta, a crunchy rose-shaped bread roll. This is a must-try while in Rome!
Local Tip: once in Trastevere you can try another great bakery, just off Piazza San Cosimato: Le Levain. We have listed it among the best pastry shops in Rome.
Address: Via del Moro 15 (Trastevere)
5. FORNO MONTEFORTE
The location itself is a valid reason to visit this great shop. In fact Forno Monteforte lies at the cross of Via del Pellegrino and Via di Monserrato, two of the most charming streets in Renaissance Rome.
Indeed taking a stroll to reach your destination is already worth it but as you step in the shop then you realize this is a must-visit place for foodies in Rome. Long story short: Monteforte produces more than twenty varieties of different breads and countless savoury and sweet specialties from pizza alla pala to delicious cornetti, cakes and pies, just to mention a few.
The bakery is open all day long and is a great choise also for breakfast and aperitivo time!
6. PANELLA
Settled in the elegant Via Merulana, midway between St. Mary Major and St. John Lateran Basilicas, Panella is one of the best bakeries in Rome since 1929.
The shop features a nice outdoors where you can comfortably taste local specialties from morning till night. Freshly baked breads of all kinds, sweet treats, delicious pizzette, sandwiches, and much more. 
Panella is also a great spot to pick gifts. In fact a part of the shop is dedicated to wines, olive oils, pastas, jams and other Italian delicacies.
7. PANIS 1890
Panis 1890 is a hidden gem located 15 min. drive from Rome historic center.
They bake perfect bread filoni, sfilatini and pagnotte (ask the kind staff for the size and shape that suits you the best!) along with delicious pizzette, cookies and other sweet treats.
Local Tip: grab some to-go delicacies at Panis 1890 and head to the nearby Piazza Mincio, central square of the fairy-tale Coppedè district. You won't regret it!
Address: Via Tagliamento 62 (Coppedè district)
8. PANIFICIO PASSI
Passi is a authentic local bakery in the heart of Testaccio, midway between Piazza Testaccio and Piazza di Santa Maria Liberatrice.
It's a classic neighborhood shop where you feel comfortable as you step in. Traditional breads and focaccia (softly raised white pizza) are baked to perfection and freshly served all day long. Biscuits and futher sweet treats are also your for the take!
Once in Testaccio do not miss a stroll through the historic Testaccio Market, one of the largest food markets in Rome. This is also a must-stop of our Testaccio Food Tour.
Address: Via Mastro Giorgio 87 (Testaccio)
Keep reading our blog to discover the Best Delis and Gourmet Food Shops in Rome and plenty of tips for local Trattorias, Pizzerias, Wine Bars, Cafés, Chocolate Shops and much more!
| Contact us to reserve fully personalized Food Tours in Rome! |