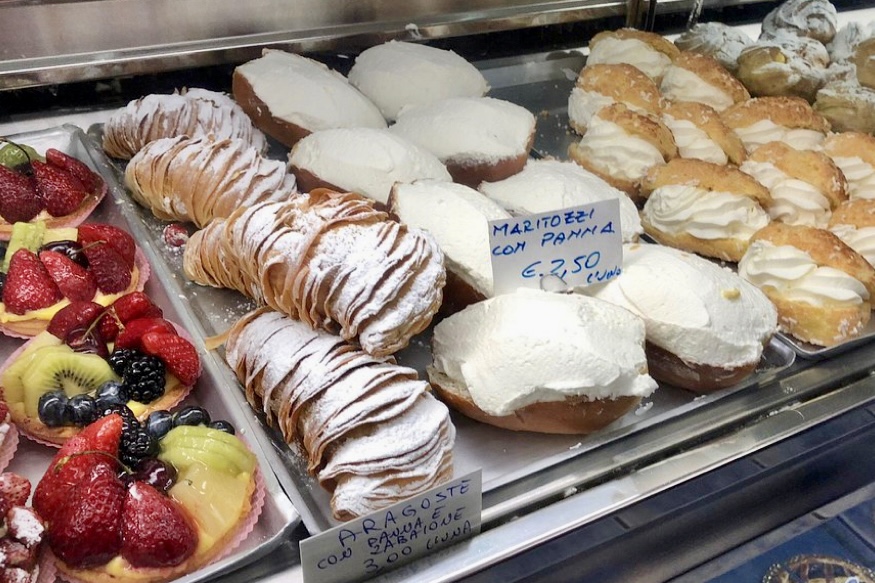 Best Pastry Shops in Rome: 10 Must-try Spots!
As real foodies and proud locals we at YouLocal always love to share tips for must-try food spots in Rome.
The following guide is especially thought for those with a sweet tooth who are craving the best pastry shops in Rome.
Pick your favorite one and enjoy Rome patisserie at its best!
1. REGOLI
Regoli is one of the oldest and best pastry shops in Rome. It was founded in 1916 and every single local know about its great assortment of pies and sweet delicacies, from the traditional maritozzo (soft bun filled with whipped cream) to the yummy scorzette d'arancia candite (orange peels frosted with dark chocolate), just to mention a couple.
You can take away Regoli's sweets or taste them at the nextdoor bar, where they also serve great coffee, cappuccino…and gelato! By the way gelato lovers can find further tips on our blog for the best gelato in Rome!
2. BOCCIONE – L'ANTICO FORNO
Boccione is the best pasticceria in the beautiful Jewish neighborhood, particularly loved for its mouth-watering crostata di ricotta e visciole (typical Roman-Jewish pie richly stuffed with sweetened ricotta cheese and sour cherries).
By the way, if you wish to know more about traditional Roman-Jewish specialties join our Rome Food Tour, a special culinary adventure for foodies of all ages!
3. BISCOTTIFICIO INNOCENTI
Nestled in a cosy alley of Trastevere, Innocenti is a name every Roman associate to artisanal biscuits.
Infact such a unique family-owned shop has baked delicious biscuits from the 40ies, when the business eventually started to provide gallette (the local take on crackers) to the Italian Army during World War II.
Since then 4 generations of Innocenti have runned the biscuit factory where nowadays you can taste genuine pastries, pies and -needless to say!- freshly made biscuits of all kinds.
4. LE LEVAIN
Le Levain was founded in 2014 as a French-style boulangerie – patisserie in Trastevere.
Since then plenty of Romans and tourists alike have fallen in love with such a cosy and welcoming place, where you can taste a unique blend of local and French patisserie.
Must-tries are Le Levain's cornetti (crunchy croissants filled with home-made custard, chocolate or pistachio cream), bombe alla crema (fried raised dough filled with custard or fruit jam and topped with powered sugar) and muffins (plenty of flavors and different sizes to pick, depending on how hungry you are!).
Extra Tip: Le Levain is located just off Piazza San Cosimato, a nice square where one of the best food markets in Rome daily operates. Do not miss it for an authentic local experience!
5. VALZANI 
Pasticceria Valzani dates back to 1925 (!) and is housed in a super cosy, old-style shop in Via del Moro, within walking distance of Piazza di Santa Maria in Trastevere.
This is a must-visit place to taste traditional local specialties not easy to find elsehwere. We mailnly refer to the delicious pangiallo, the pampepato and the mostaccioli romani. 
Valzani also produces fine cakes and delicate chocolate: pralines, truffles, cookies and much more. By the way if you are a chocolate lover we suggest you have a look at our guide to the best chocolate shops in Rome!
6. POMPI – IL REGNO DEL TIRAMISU'
Dating back to the early 19th century, with its cradle probably located in Veneto (North-East of Italy), the tiramisù has eventually become one of the most popular desserts in Italy.
Rome is no exception and you can find this specialty as home-made in countless restaurants, trattorias, pizzerias and bars. However most locals think the best tiramisù in Rome is the one made by Pompi, a major pastry shop located in San Giovanni district.
Here you can taste the classic recipe (made with savoiardi -lady fingers- dunked in espresso coffee and layered with a mascarpone custard: all sprinkled with cocoa powder) along with plenty of creative interpretations. 
Since its foundation in the 60ies Pompi's tiramisù kingdom has developed into a large chain with six stores scattered across Rome, including central venues in Via della Croce (Spanish Steps area) and Piazza Risorgimento (within walking distance of the Vatican Museums).
7. NATALIZI
Natalizi is an historic pasticceria in the heart of the beautiful Salario district, just a few minutes drive from Rome's historic center. 
Since 1921 this family-run shop has baked some of the best cakes in Rome along with delicious pastries, biscotti da tè (tea time cookies), cornetti (the local take on croissant), pizzette (small two-bite pizzas, perfect choise for a classic Italian aperitif) and plenty of other food specialties.
Natalizi is definitely a spot not to be missed by real foodies!
8. BOMPIANI – WALTER MUSCO
Not simple cakes but true pieces of art. This is what Walter Musco -Master Pastry Chef and owner of the Pasticceria Bompiani- produces at his famous laboratory in the Ardeatino neighborhood, close to Eur.
Musco's signatures cakes are inspired by Italian patisserie tradition with a contemporary twist and a unique attention to aestetics. Some major works are inspired by iconic paintings by Pollock, Fontana, Burri and Banksy.
As you can imagine this is a one-of-a-kind pastry shop, well worth a 20 min. drive from Rome city center.
9. ANDREOTTI
Andreotti is unanimously considered one of the best pasticcerie in Rome…since 1931.
Locals happily pop in the historic shop in the heart of the Ostiense district for multiple reasons: a quick coffee recharge, a light lunch, a delicious sweet treat or to pick some of the best cakes in Rome.
To us Andreotti's profiterole deserves a special mention. Here the original Tuscan recipe is carried out to perfection by using only high-quality ingredients. Crispy pastry balls filled with custard then drizzled with chocolate. Does not it sound yummy?!
10. CAVALLETTI
Cavalletti is the go-to place for millefoglie, a delicious cake made of paper-thin layers of pastry dough and vanilla custard.
Locals consider Cavalletti's millefoglie the best in town, perhaps even in all of Italy. Absolutely worth a tasting!
At this historic pastry shop you can find much more though, including a surprising sachertorte.
The Extra Tip: IL SORCHETTARO
Dar Sorchettaro (aka Pasticceria Lambiase in Via Cernaia 47, Termini Station area) is a true sanctuary for night owls in Rome. In fact this tiny bakery -that normally operates from 8 PM to 7 AM- is the perfect spot to indulge in a warm pastry or a slice of pizza before going to sleep. Locals' favorite treat here is her majesty "la sorchetta", baked soft dough filled with custard and topped with cream and/or chocolate. All in all a delicious calorie bomb to sweetly end the day after a fun night out!
Keep reading our blog to find the Best Gelato in Rome, Best Coffee in Rome, Best Delis in Rome, Best Rooftop Bars in Rome and plenty of tips to plan your Nightlife in Rome!
| Contact us to reserve fully personalized Food Tours in Rome! |