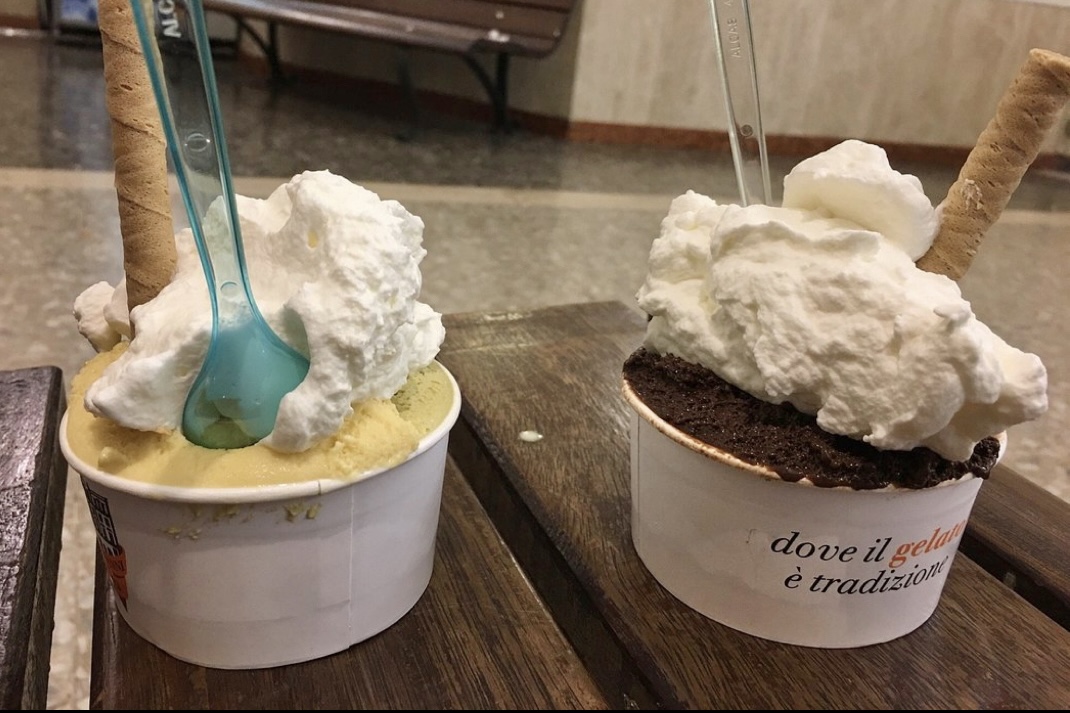 The Ultimate Food Guide for the Best Gelato in Rome
Italians eat almost 8 kilos of gelato each year. In the Peninsula, there are almost 20,000 gelaterie with an annual income of euro 1,5 billion and eight out of ten are artisanal. Where is the queen of Italian gelato? That's Rome, where there are almost 2,000 gelato parlors! The best gelato in Rome is filled with new innovative flavors, the timeless classics, and award-winning creators.
Where is the best gelato in Rome? There are gelaterie spread all around but three neighborhoods really can't be missed out: Trastevere, Monti, and Testaccio. By the way the food and walking tours of You Local Rome take you to some of these locations thanks to this Rome food guide.
Rome food guide: where can you find the best gelato in Rome?
1. Fassi
With 140 years of history and 5 generations of gelato masters, Fassi is the oldest family-run gelateria in Rome and a must-try for true gelato lovers!
Its old-style shop and massive laboratory are located within the beautiful Palazzo del Freddo building, a short walk distance from Piazza Vittorio (metro A line) and Termini Station.
Fassi produces not only some of the best gelato in Rome but also home specialties whose names evoke yummy memories among locals. We'll mention just a couple: the mythical Sanpietrini (little "rocks" of dark chocolate filled with different ice cream flavors) and the deliciuos Gianduiotto (chocolate, hazelnut and cream semifreddo, slightly lighter in texture than a classic ice cream).
Hurry up to taste all Fassi's tidbits!
2. Gelateria del Teatro
This is yet another must-try parlor in Rome, not only for its delicious gelato but also for the cosyness of the two shops located in Via dei Coronari and in Trastevere.
The owners – Stefano and Silvia – made their dream come true back in 2006 when the first shop was opened. Since then thousands of locals and tourists have queued at the door to taste unique flavors based on fresh ingredients only…and a one-of-a-kind creativity. Pumpkin, rosemary and lemon, honey, lavender, white peach, sage and raspberry. Do not they sound amazing?
3. Fatamorgana
Fatamorgana was founded in 2003 as a little gelato shop. It nowadays features six venues in Rome -also in Monti and Trastevere districts- that still keep the best artisanal approach to ice cream making process.
The motto of this parlor is: "it just tastes better." Here you can find some of the best gelato in Rome with unique recipes which include ingredients from all over Italy that smell and taste like the Mediterranean. For example, rosemary, saffron from the town of L'Aquila, and mascarpone cheese. All from the creative mind of Maria Agnese, the founder of Fatamorgana.
4. Otaleg
In the heart of Trastevere, this gourmet gelato shop takes pride in its unusual yet appealing flavors. One above all is the cacio and pepe flavor -cacio cheese and black pepper- inspired by one of the greatest classics of Roman cuisine: the pasta cacio e pepe (which you can't miss at the best trattorias in Rome!).
But, if you are looking for gelato, then Otaleg is the place to be. However, if you like more classic or fruity flavors, this gelateria also offers delicious sorbetti, a must-try frozen specialty.
5. Torcè
Torcè is one of the best award-winning gelaterias in Rome, particularly loved by locals for its home made gelato and chocolate treats.
One of the four shops is conveniently located within walk distance from the Circus Maximus. Just a perfect stop after visiting the wonders of ancient Rome!
6. La Gourmandise
This is yet another great gelato parlor in Rome, nestled in the green and peaceful Monteverde district.
La Gourmandise has been awarded for many years with the "Tre Coni" prize by the famous Gambero Rosso Food Guide as one of the best gelaterias in Italy. Try their goat milk gluten-free icecream and you'll find out why!
7. Guttilla
Guttilla – Alta Gelateria Italiana is the full name of this modern-style parlor. Well, the name says it all: here you can find high-end gelato for real!
Guttilla is a bit more pricey than average, but considering the quality and variety of products we'd definitely say its worth the money.
Each cone is served with great care and a special tecnique is used to preserve the creamness and uniqueness of each flavor. Also, there's a yummy array of different whipped cream to choose from to top your gelato at the very best!
8. Giolitti
A century-old store filled with sweetness, history, and charm, this is a must-see destination in the heart of Rome (a short walk distance from the Pantheon).
Scoops aside, you can taste the stecco ice creams, like the Cacao Fino de Aroma of Central America and milk chocolate glaze. Just as sweet are the artisanal biscuits, like the pure Sicilian pistachio and chopped pistachios.
If you are looking to sit down and relax with a snack, you can try the ice cream cups. Some of them are original recipes, for example the Giolitti Cup with custard and chilled zabaione. Its recipe dates back to 1920, one of the best gelato in Rome.
9. Giuffrè
Giuffrè in Trastevere is an older venue. It's been around since 1918, serving people with artisanal gelato, delicious cakes and plenty of other sweet tidbits (full tips here for the best pastry shops in Rome).
One of the core ideals here is sustainability. In fact, the Gelateria Giuffrè only uses seasonal and high quality ingredients to make some of its most popular flavors such as Porta Portese with hazelnuts, toasted almonds, and gianduia. Or Portonovo, with salty peanuts and caramel chocolate.
10. Capitan Cono
The lovely couple Claudio and Laura opened this establishment in the heart of Testaccio, in 2017. It's an artisanal gelateria where you can also find options that are lactose-free. Perfect for the hot summer days is also the pistachio granita, tasty and fresh.
Capitan Cono is the perfect stop to grab a spoon of gelato and then head out to enjoy your Roman day with your Rome food guide by You Local.
11. Gelateria dell'Angeletto
Stefano Segnalini is the creative mind behind this tiny, artisanal gelato parlor in the heart of Monti. He entered the business in 2014 and, ever since, Segnalini has been offering clients the classic flavors with a delicious twist.
Whatever the flavor, you taste high-quality gelato with no colorants and preservatives. You can also find vegan options and gluten-free ones. If you are starving, you can't miss the brioche filled with gelato, both artisanal, and a true signature dish.
The extra tip: Il Cannolo Siciliano
There is no Rome food guide without mentioning the shop Cannolo Siciliano, an award-winner. The owners Eugenio Morrone and his Sicialian wife Francesca Orlandi manage this gelato parlor which doesn't reject any ingredients. Some special and limited edition flavors of Cannolo Siciliano included blue cheese, champagne, and ham. Morrone has gained many awards and special mentions during his career. The latest is his victory at the 2022 Gelato World Cup when he even joined the "Hall of Fame" of the Gelato Festival World Ranking. So, it's a must-try if you are looking for the best gelato in Rome.
| Ready to find your next addiction? Join our Rome Food Guide Tours to taste the best gelato in Rome. We'll treat you to special tidbits only locals know about! |
Keep reading our blog to find the Best Coffee in Rome, Best Delis in Rome, Best Rooftop Bars in Rome and plenty of tips to plan your Nightlife in Rome!