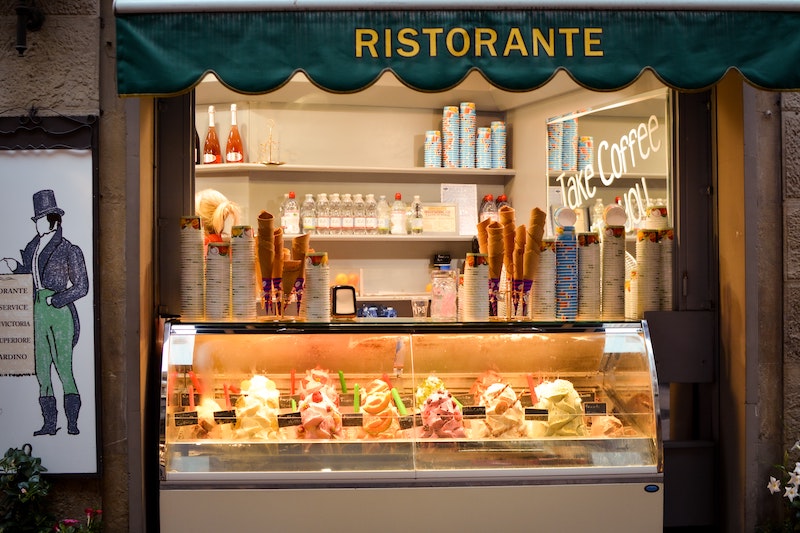 The Ultimate Food Guide for the best Gelato in Rome
Italians eat almost 8 kilos of gelato each year. In the Peninsula, there are almost 20,000 gelaterie with an annual income of euro 1,5 billion and eight out of ten are artisanal. Where is the queen of Italian gelato? That's Rome, where there are almost 2,000 gelato parlors. The best gelato in Rome is filled with new innovative flavors, the timeless classics, and award-winning creators.
Where is the best gelato in Rome? There are three neighborhoods you can't miss: Trastevere, Monti, and Testaccio. And the food and walking tours of You Local Rome take you to some of these locations thanks to this Rome food guide.
Rome food guide: where can you find the best gelato in Rome?
In Testaccio: Capitan Cono
The lovely couple Claudio and Laura opened this establishment in 2017. It's an artisanal gelateria where you can also find options that are lactose-free. Perfect for the hot summer days is also the pistachio granita, tasty and fresh. This is the perfect stop to grab a spoon of gelato and then head out to enjoy your Roman day with your Rome food guide by You Local Rome.
In Trastevere: Gelateria Giuffre
In the heart of the Trastevere neighborhood, this parlor is an older venue. It's been around since 1918, serving people with artisanal gelato. One of the core ideals behind this parlor is sustainability. In fact, the Gelateria Giuffre only uses seasonal and local ingredients to make some of its most popular flavors such as Porta Porese with hazelnuts, toasted almonds, and gianduia. Or Portonovo, with salty peanuts and caramel chocolate.
Famous all over the world: Fatamorgana
Rome was where this global chain first opened in 2013 in the Monti neighborhood. The motto of this parlor is: "it just tastes better." Here you can find some of the best gelato in Rome with unique recipes which include ingredients from all over Italy that smell and taste like the Mediterranean. For example, rosemary, saffron from the town of L'Aquila, and mascarpone cheese. All from the creative mind of Maria Agnese, the founder of Fatamorgana.
Keep reading: discover Rione Monti with the best Rome guided tours 
True Roman flavors at Otaleg
In the heart of Trastevere, this gelato parlor takes pride in its unusual yet (weirdly) appealing flavors. One above all is the cacio and pepe, the cacio cheese and pepper. This is also a pasta sauce, which you can't miss at the restaurant. But, if you are looking for gelato, then Otaleg is the place to be. However, if you like more classic or fruity flavors, this gelateria also offers delicious sorbetti, a delicious and frozen dessert.
Since 1900: Giolitti Gelateria
A century-old store filled with sweetness, history, and charm, this is a must-see destination in the Testaccio neighborhood. Scoops aside, you can taste the stecco ice creams, like the Cacao Fino de Aroma of Central America and milk chocolate glaze. Just as sweet are the artisanal biscuits, like the pure Sicilian pistachio and chopped pistachios. If you are looking to sit down and relax with a snack, you can try the ice cream cups. Some of them are original recipes, for example the Giuolitti Cup with custard and chilled zabaione. Its recipe dates back to 1920, one of the best gelato in Rome.
Gelateria dell'Angeletto in the Rione Monti
Stefano Segnalini is the creative mind behind this tiny, artisanal gelato parlor. He entered the business in 2014 and, ever since, Segnalini has been offering clients the classic flavors with a delicious twist. Whatever the flavor, you taste high-quality gelato with any colorants and without any eggs for the fruity flavors. You can also find vegan options and gluten-free ones. If you are starving, you can't miss the brioche filled with gelato, both artisanal, and a true signature dish.
The extra tip: Il Cannolo Siciliano
There is no Rome food guide without mentioning the shop called "Cannolo Siciliano," an award-winner. The owners Eugenio Morrone and his Sicialian wife Francesca Orlandi manage this gelato parlor which doesn't reject any ingredients. Some special and limited edition flavors of Cannolo Siciliano included blue cheese, champagne, and ham. Morrone has gained many awards and special mentions during his career. The latest is his victory at the 2022 Gelato World Cup when he even joined the "Hall of Fame" of the Gelato Festival World Ranking. So, it's a must-try if you are looking for the best gelato in Rome.
So, Rome is the queen of Italian gelato. Among the almost 2000 parlors in the city, these seven are a must try. In Trastevere, Rione Monti, and Testaccio, you can always enjoy a scoop of gelato. Ready to find your next addiction? Join the Rome food guide tours of You Local Rome to have an unforgettable experience and taste the best gelato in Rome.