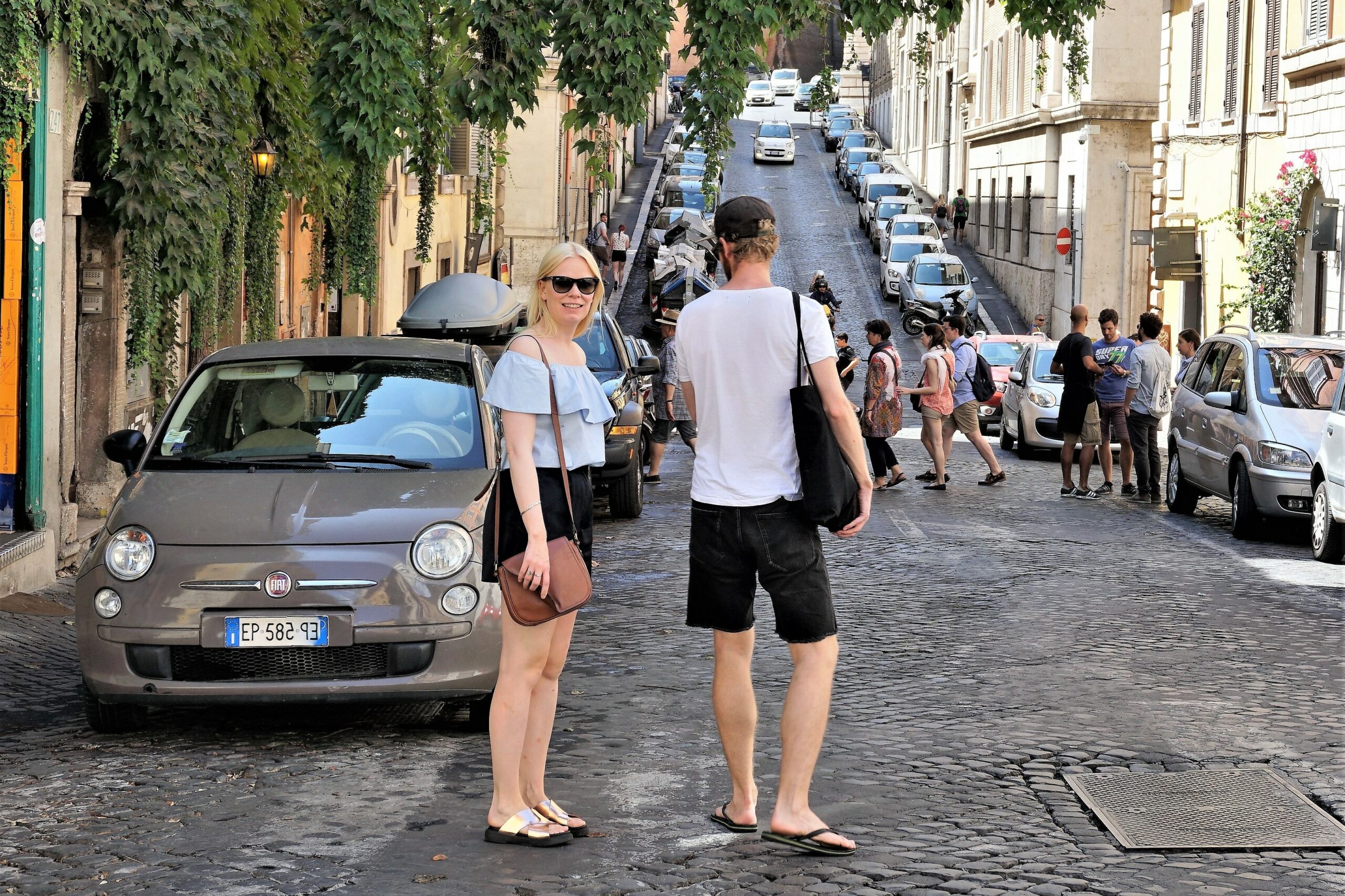 Rome Walking Food Tour to Rione Monti
Rome walking food tour to Rione Monti will lead you through narrow cobblestone alleys, artisans' stores, art galleries, small squares and old buildings.
Rione Monti is a city within a city. Wandering through this neighborhood, getting lost and sitting at the café, a trattoria or a wine bar is a must-try local experience.
Where does this atmosphere come from?
Rome Walking Food Tour in one of the oldest districts of the city
Rione Monti is one of the oldest districts in Rome. Its name is linked to three of the seven hills of Rome included within its boundaries: Esquilino, Viminale and part of Quirinale. It is hilly and picturesque indeed, with streets and stairways going up and down everywhere. The three hills stand out on the district coat of arms, a reminder for the name etymology.
Monti is a historical district, with similar features to Trastevere but more central and better connected (it lies halfway between Termini station and the Fori). It was the "Suburra" of Ancient Rome, i.e. a poor and dangerous district of the city, where the working class used to live. According to Latin authors the area was associated with gambling and prostitution too. (Join our Ancient Rome Tours to know more about the origins of the Eternal City!).
Talking of modern times, Rione Monti was rather neglected and run-down in the postwar period until the 1990s. In the last 20-30 years, the district has been thriving, becoming one of the most charming and vital neighborhoods.
Rome Food Guide to Monti District
This area is to be experienced from its culinary point of view: there are must-try trattorias, cool bars and live music clubs much loved by locals and tourists alike. On a Rome walking food tour to Monte Rioni you will be spoiled for choice!
Via del Boschetto is world-known for housing the most numbers of restaurants per square meters in the entire capital! It embraces historical wine bars and great street food spots, especially around the central squares of the Rione, where locals and tourists meet. We refer to the famous "Piazzetta" (i.e., Piazza della Madonna dei Monti) and Piazza degli Zingari.
Via Urbana is a lovely street with its colorful buildings, local-style workshops, delicious bakeries…and one of the best chocolate shops in Rome!
Via Panisperna is amazing for the dolce vita atmosphere that characterizes many of the cafés that line it. There are many locals' favorite trattorias where you can enjoy typical Roman cuisine, wine bars and beer gardens where you can have excellent aperitifs towards the evening. Yes, because in recent years the neighborhood has become one of the favorite destinations of Rome nightlife.
And don't miss out Via dei Serpenti and its bakeries known for its delicacies, ranging from sweet to savory. Here you will find bread of all kinds and for every taste, and you can take a journey back in time by tasting the bread that the ancient Romans used to eat, prepared with a special yeast and with raisins.
The Best Trattorias on your Rome Walking Food Tour to Rione Monti
As true locals we can tell you that Rione Monti hosts some of the best trattorias in Rome. Family-run restaurants where you can taste authentic Roman dishes in a nice and casual atmosphere…far from the tourist traps! Here are our favorite spots:
Taverna dei Fori Imperiali is in the heart of Rione Monti, within walking distance of the Imperial Fora. Here the passion for good food has been going on for over four generations offering the best Roman cuisine!
Trattoria Valentino in Via del Boschetto. Typical Roman trattoria boasting an intimate and informal atmosphere and a friendly staff!
Taverna Romana in Via della Madonna dei Monti is a real linchpin of Roman cuisine in the capital. Since the early 1800s, generation after generation has been handing down the recipes of traditional Roman classics.
Curious to know more about Rione Monti, its unique vibe and great food scene?
Contact us to arrange a fully personalized food tour then! YouLocal was born in this district. We truly know it!