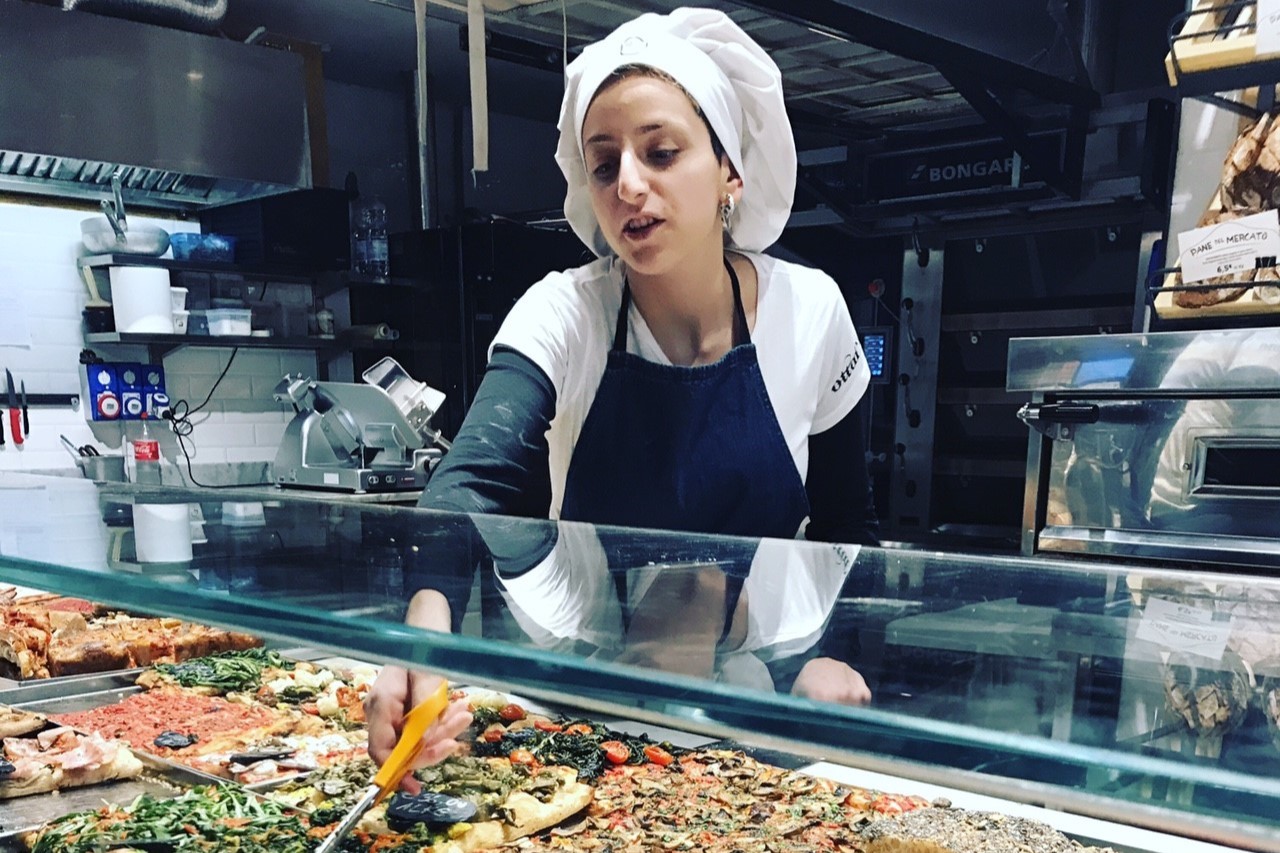 Street Food Tips: the Best Pizza By The Slice in Rome
Ask the locals about the best street food in Rome: 90% of them will answer pizza by the slice is their favorite by far! 
Why? Because pizza by the slice is simple, healthy, yummy and not expensive at all. Just the perfect option for a mid-morning snack, a quick lunch or a afternoon treat.
Yes, you got it right: pizza slices work well 24/7! In fact there are hundreds of shops and bakeries in Rome serving "pizza al taglio" at any time…and at every corner. Only some places have a properly baked pizza with top quality seasonings though.
As big pizza lovers we at YouLocal have picked the must-try spots for the best pizza by the slice in Rome. Enjoy!
1. FORNO ROSCIOLI
Roscioli is a true institution for food lovers in Rome.
The historic bakery is located within walking distance of Campo de Fiori. Here you can find delicious bread and pizza by-the-slice, along with plenty of other treats.
The simpler the better at Roscioli: pick the crispy pizza bianca (deliciously seasoned with extra virgin olive oil) or the tasty pizza rossa (topped with home made tomato sauce) and you'll feel in heaven!
Tip for big foodies: just a few meters away from Forno Roscioli you can step into Salumeria Roscioli, one of the best gourmet shops in Rome. Here you can indulge in unique Italian delicacies, from tasty cheeses to cured meats, award-winning wines, olive oils, aged vinegars and much more. 
Last but not least, Roscioli is a must-stop of our Rome Food Tour. Do not miss it!
Address: Via dei Chiavari, 34 
2. ANTICO FORNO CAMPO DE' FIORI
Yet another foodies' milestone in the very heart of Renaissance Rome. 
The Antico Forno Campo de' Fiori has been baking out delicacies since late 1800! Nothing has changed since in terms of quality and customer care. In fact as you step in this charming old-style shop you'll immediately breathe in mouth watering smells and a unique sense of hospitality.
Here you can find one of the best pizzas by the slice in Rome. We refer to the pizza bianca con la mortadella (a locals' favorite pork cured meat). Give it a try and you'll never forget it!
Address: Campo De' Fiori, 22 – Vicolo del Gallo, 14
3. PIZZARIUM
Pizzarium is the pizza by the slice branch of Panificio Bonci, one the the best bakeries in Rome.
This locals' favorite pizza shop is located within walking distance of the Vatican Museums. 
The success of Pizzarium relies on high-end produce, special dough recipes…and Gabriele Bonci's strong charisma and great expertise in the baking art! In fact over the year this local guy has become one of the most popular bakers in Italy -also thanks to numerous TV shows- and he is nowadays expanding his business to the USA.
Address: Via della Meloria 43 
4. TRIESTE PIZZA
Trieste Pizza is our favourite pizzeria in the beautiful Monti district.
They technycally do not serve pizza by the slice but rather signature shape pizza pies. This means you do not pay by weight but by pie(s). 
Your pizza is freshly baked and served within minutes at the counter. You can take away or eat in (no table service though).
All pizzas can come in small or medium size pies, both cooked "al padellino". This special handcrafted baking pan is one of the secrets of Trieste's pizza superior taste and perfect texture.
To us the small size pie is the best choice as it stays more light and crunchy. Furthermore it's more convenient to take away and enjoy through the cosy alleys of Monti or at the Renaissance Piazza della Madonna de' Monti, locals' favorite gathering spot in the area.
Last but not least, the hosts at Trieste are really fun and welcoming, and all pizzas are seasoned with high-end ingredients, mostly coming from the Abruzzo region where Trieste Pizza was founded in 1958!​
5. ZIZZI PIZZA
Zizzi Pizza is a hidden gem for true pizza lovers.
The small bakery -located in a quiet square close to St. Mary Major Basilica- is run by two passionate siblings.
They serve some of the best pizza by the slice in Rome along with further street food delicacies. Special mentions for the home-made supplì and the deliciously fried anchovies.
Weather permitting you can taste Zizzi's treats at the tables outdoor while admiring two stunning medieval towers and the back of the splendid Basilica of San Martino ai Monti! 
Address: Piazza San Martino ai Monti 4/5
Website: http://www.zizzipizza.com/
6. LA BOCCACCIA
La Boccaccia is a small local chain with three shops in Rome conveniently located in Monti and Trastevere, two of the best street food districts in Rome.
The pizza dough is well raised making Boccaccia's pizza soft and light, with a slightly crunchy crust.
Fresh ingredients and seasonal toppings are further keys to the success of this pizza spot, consistently popular with both locals and tourists along.
Addresses: Via Leonina 73 (Monti) | Via di Santa Dorotea 2 (Trastevere) | Via di San Francesco a Ripa 21 (Trastevere)
For those who prefer to stay comfortable and have their pizza pie served at the table, we have selected the sit-down pizzerias you should not miss while in Rome.
Keep reading our blog for further food tips!
| Contact us to reserve fully personalized Food Tours in Rome! |