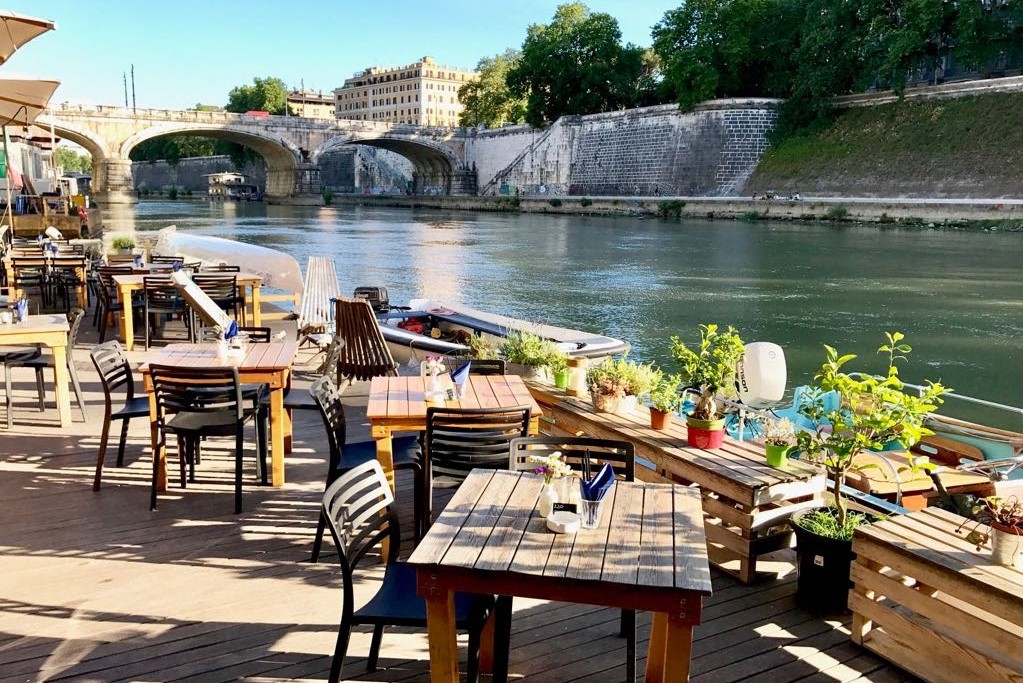 Drink like a Local! The 11 Best Wine Bars in Rome
From traditional Enoteche to fancy Cocktail Bars and Bistros, we get you covered!
Check our tips for the Best Wine Bars in Rome to drink like a local.
1. AI TRE SCALINI – Bottiglieria dal 1895
Ai Tre Scalini is a true jewel in the heart of Monti, one of the best districts to go out in Rome.
Settled in 1895 (!) this place features a cosy venue and a friendly staff.
Perfect place to taste yummy charcuteries paired with great wines after your sightseeing.
Ai Tre Scalini is particularly busy on the weekends with both locals and tourists.
2. SALOTTO 42 – Boutique Wine Bar
Salotto 42 was born in 2004 as a bookbar in the beautiful Piazza di Pietra, facing the astonishing remains of Hadrian's Temple.
It is an elegant yet friendly place to taste great wines and sophisticated cocktails in the cozyness of a unique location.
Tips: not to miss Salotto 42 cold cuts and fish tartares. Reservation is highly recommended as the place is tiny and very popular.
3. CAFFE' PROPAGANDA – The Roman Bistrot [CLOSED]
Retro atmosphere with a contemporary touch for a truly unique venue, just few steps away from the Colosseum.
Caffè Propaganda is the perfect place for those looking for a nice bistrot in the heart of Rome.
Excellent cocktails and fine patisserie are among the keys for the success of such a unique place, one of Rome Best Wine Bars.
4. BAJA – The River Experience
Elegant yet laid back Lounge Bar – Restaurant settled in a recently renovated floating boat on the Tiber River!
Far from the city chaos you can taste fine cocktails and local specialties while enjoying a unique view over the river .
Highly recommended for the aperitivo and to those looking for a truly unique and non-touristic experience, just a few minutes walk from Piazza del Popolo and the Spanish Steps.
Dj Set or Live Music often scheduled on the weekends!
5. BAR DEL FICO – A Roman Institution
This is a true Roman institution. 
Bar del Fico is not only an historic wine bar but also a hip restaurant within walk distance of Piazza Navona.
The outdoor space is housed in one of the cosiest squares in Rome. Here stands the magnificient fig tree Bar del Fico is named after.
Romans and tourists along love to meet in the square in Summertime. Be ready for a true local experience!
7. PORTO FLUVIALE 
Porto Fluviale is one of the best wine bars in Rome.
Its industrial-style venue is housed in a picturesque 900 sm disused warehouse in the lively Ostiense district, a short distance from Rome's historic centre.
8. NECCI dal 1924 – Pigneto at its Best
Historic wine bar and restaurant in the heart of Pigneto.
Necci is open from early morning to late night for everybody to enjoy its good vibes and cosy garden, an oasis of peace amid the chaos of the city. 
9. BAUHAUS – Back to the 1920ies!
Bauhaus is a fancy yet laid back restaurant – cocktail bar in the heart of Garbatella, a short distance from the historic center of Rome.
Here you can sip great wines and classy cocktails in a nicely renovated venue, highly popular with locals. Reservation is recommended, especially on the week ends.
Local tip: do not miss a walk through the winding streets and cozy squares of Garbatella (aka the Città Giardino), a one-of-a-kind neighborhood in Rome dotted with beautiful buldings and fairy-tale courtyards.
10. BLACKMARKET HALL – A Vintage Temple
This is a go-to place in Monti for wine and food lovers.
Blackmarket Hall features a three-storey hip venue with plenty of vintage-style decorated rooms and a cosy outdoor space.
Do not miss a stroll to the nearby Piazza degli Zingari and Piazza della Madonna dei Monti (aka the Piazzetta) for a true local experience in Monti!
Also, vintage fans can find plenty of tips on our blog for vintage stores in Monti and the best flea markets in Rome.  
11. WISDOMLESS – Cabinet of Curiosities
Inspired by the sixteenth century Wunderkammer (or Cabinet of Curiosities), Wisdomless is a one-of-a-kind cocktail bar in Rome.
Surrounded by works of art and odd objects as belonging to natural history, etnography and religious relics, at this place you can sip sophisticated cocktails finely served by the local staff.
Wisdomless is located off Via del Governo Vecchio, a few steps away from Navona Square. 
Keep reading our blog for the Best Wine Stores in Rome, the Best Trattorias in Rome, the Best Rooftop Bars in Rome, the Best Coffee Shops in Rome, and plenty of tips to plan your Nightlife in Rome and your Shopping in Rome!
| Contact us to reserve fully personalized Food Tours in Rome! |