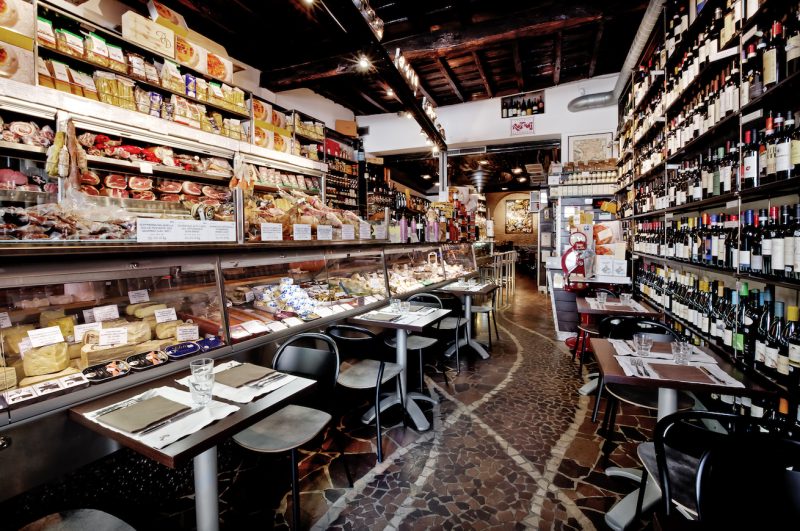 Our Favourit (non-touristy!) Trattorias in Rome
1. TRATTORIA DA TEO
Da Teo is a historic trattoria in the heart of Trastevere, but far from the tourist crowds!
Definitely one of our favorite places to taste traditional Roman cuisine in a nice, informal atmosphere. Not to miss their "tortino di puntarelle and buffalo mozzarella" and their home made desserts!
Booking is recommended as the place is consistenly popular with locals and often really busy.
ADDRESS: Piazza dei Ponziani 7/a (Trastevere district);

Reservation recommended (especially for dinner and on the weekends);
2. LA TAVERNA DEI FORI IMPERIALI
Cosy, family-owned trattoria in Via della Madonna dei Monti, few steps away from the Imperial Forums! 
At the Taverna dei Fori Imperiali freshly-made Roman dishes are served in a informal yet welcoming way. By the way do not miss their delicious pasta all'amatriciana and Roman-style coratella with artichokes!
Weather permitting you can also seat outdoors and enjoy the magical atmosphere of one of the most picturesque districts in Rome!
ADDRESS: Via della Madonna dei Monti 9 (Monti district);
Reservation recommended (especially for dinner and on the weekend);
3. DA ARMANDO AL PANTHEON
Da Armando is one of the best trattorias in Rome's historical centre.
Family-run and traditional style, they serve authentic Roman specialties at a moderate price, since 1961! Definitely worth a visit for a great food recharge during your sightseeing across the Pantheon area.
We recommend you make a reservation (especially for dinner), since the restaurant is small and consistently popular with both locals and tourists.
ADDRESS: Salita De' Crescenzi 31 (Pantheon area);
Reservation recommended (especially for dinner and on the weekend);
4. FLAVIO AL VELAVEVODETTO
A truly unique location escaveted inside the Monte Testaccio, Ancient Rome "dump" where terracotta jars used to be collected after use.
This fascinating trattoria has also a nice outdoors to enjoy traditional local specialties (pasta cacio & pepe and Roman style saltimbocca are absolutely worth trying!) and good local wines.
Booking in advance is highly recommended, especially on the weekends!
ADDRESS: Via Monte Testaccio 97/99 (Testaccio district);
Reservation recommended (especially for dinner and on the weekend);
5. SALUMERIA ROSCIOLI – Deli Shop/Restaurant
The Salumeria Roscioli is a must visit place for big foodies in Rome!
Family owned since mid-19th century, it's located in the heart of Renaissance Rome, few steps away from the historical Campo de' Fiori Market.
The cosy store hosts a fabolous deli shop (where you can find some of the best Italian wines, cheeses, cured meats, olive oils, balsamic vinegars, etc.) and a delicious restaurant where you can taste traditional Roman specialties and fine charcuteries.
Being a really small restaurant, it is highly recommended making a reservation at least few days in advance. 
ADDRESS: Via dei Giubbonari 21-22 (Campo de' Fiori area);
Reservation mandatory through their website (being the restaurant really small, we recommend you reserve at least 4-5 days in advance);
6. CUL DE SAC – Winebar/Trattoria
Historic winebar/trattoria founded in 1977 and located in a cozy square, two minute walk from Piazza Navona.
Warm atmosphere, quick and informal service, great selection of charcuteries, cheeses and wines (more than 1500 labels!).
That's not all though…Cul de Sac also serves traditional Roman dishes (stewed oxtail, Roman-style tripe, pasta all'amatriciana), along with great house specialties (snails with green sauce, home made ravioli, meatballs, etc.). 
ADDRESS: Piazza di Pasquino 73 (Navona Square area);
Reservation recommended (especially for dinner and on the weekend);