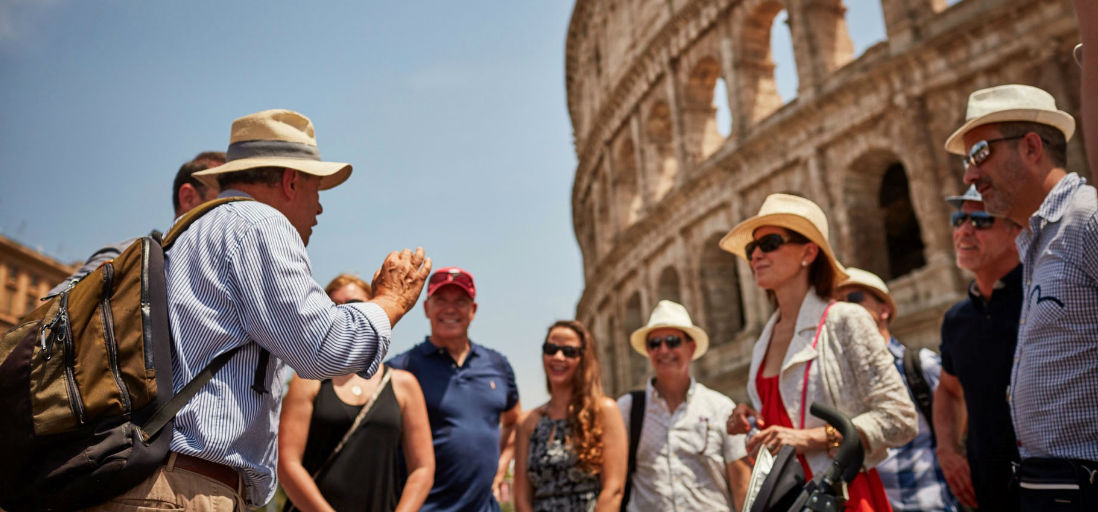 What the best walking tour in Rome should include (and yours too)
When it comes to exploring Rome in detail and in depth, nothing compares to walking. On foot, visitors will get to experience all aspects of the city. They'll literally feel the city beneath their feet, sense its smells, hear its noise and see its sights. We're strong advocates of immersive walking tours in Rome because we believe there's no better way to really get a feeling for the city.
5 Building Blocks for the Best Walking Tour in Rome
As a travel agent or tour operator, there are various things you can incorporate into your package to make it the best walking tour in Rome. Of course, you can't stuff every possible characteristic of a city like Rome in just one tour. Yet, it is entirely possible to focus on one specific aspect, attraction or activity and build your tour around that.
Below, we talk about five main building blocks to create the best walking tour in Rome. You'll notice that they're all different and centered on just one thing, whether it's family-friendliness, cuisine, Ancient Roman sites or off-the-beaten-track locations. By doing this, you'll be able to offer the perfect walking tour in Rome, while also catering to your customer's interests and preferences.
1. A Vatican City Walking Tour
The world's smallest country, Vatican City lies in the heart of Italy. It's the headquarters of the Catholic Church, the residence of the pope, and home to some of the holiest sites in all of Christendom.
Religious and non-religious visitors alike will enjoy our walking tours of the Vatican. Major highlights include the Vatican Museums, among the largest and most impressive museums on Earth, the breathtaking Sistine Chapel, and a visit to massive St. Peter's Cathedral, the world's biggest church.
If you're looking for the best walking tour in Rome, these would be strong contenders.
2. Kid-Friendly Walking Tour Activities
If a family with young children is visiting Rome, you can rest assured they'll be looking for kid-friendly activities to do. And the best walking tour in Rome will offer those! While it's great fun for adults to visit Rome's amazing art museums and learn about the fascinating history of the Eternal City, children will be much less interested in that.
To help traveling families (and tour operators), You Local – Rome offers a selection of kid-friendly walking tours in Rome. These popular tours are filled with fun activities, as well as lots of information explained at the level of a child.
3. Local Food Tastings
Is there any other country whose cuisine is more famous than Italy? We couldn't think of one either! Therefore, any visit to Italy, and especially Rome, its capital, should include at least one culinary experience. The more, the better, though. You'll notice that the best walking tours in Rome usually include some kind of food-related activity.
We offer two different food-focused walking tours in Rome, both including a visit to a busy, historic food market and plenty of opportunity to sample Rome's mouthwatering cuisine.
4. An Ancient Rome Walking Tour
The Vatican and Rome's phenomenal culinary scene aside, the city's one major attraction is arguably the sites of Ancient Rome. From the Colosseum and the stunning Roman Forum to the Temple of Julius Caesar, the Arches of Constantine and Titus, and the House of the Vestals, there are myriad Ancient Roman sites to visit.
We offer a wide variety of the best walking tours in Ancient Rome, including two kid-friendly walking tours in Ancient Rome and two options for our popular Ancient Rome and Colosseum Tour.
5. Beyond the Classics
Some tourists might want to skip the main attractions, particularly if they've already visited Rome once and would like to avoid the big crowds. At You Local – Rome, we totally understand this and we've created several different tours to cater to that specific desire.
Want to explore Rome beyond the classics or offer a tour package to your customers? Consider our Appian Way Tour, our Highlights and Hidden Jewels of Rome Tour or our Capuchin Crypt and Catacombs Tour. 
As you can see, the best walking tours in Rome exist in various shapes and forms. Depending on your or your customers' interests, you'll have plenty of choices. For a complete overview of all our Rome walking tours, please visit this handy overview page.