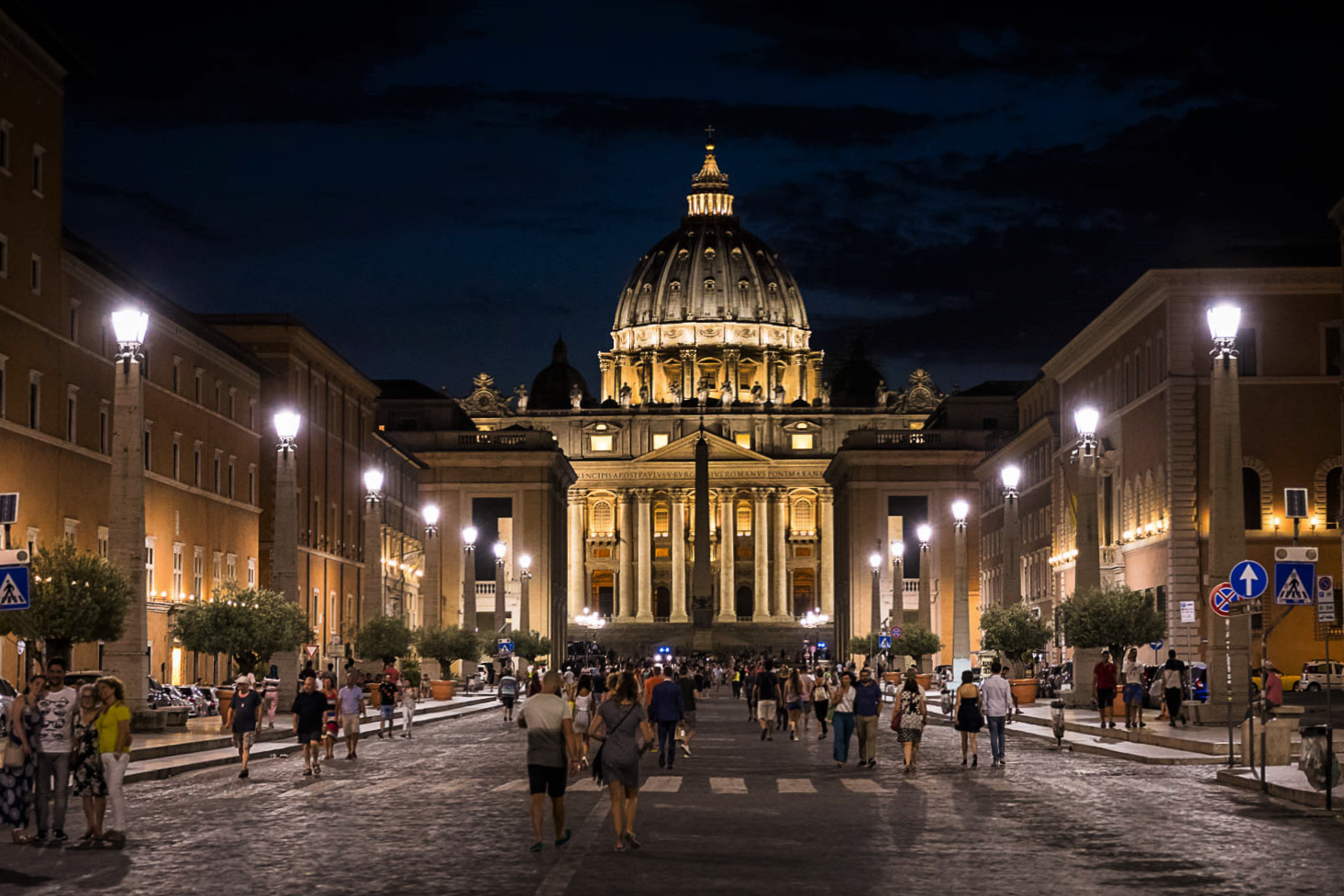 Rome is more charming than ever with a Vatican Night Tour
As spectacular, mesmerizing and exciting as it is during the day, could it be possible that Rome is even more magical at night? We certainly think so! And that's why we've created a Vatican night tour, which lets visitors experience just how atmospheric and evocative the Eternal City can be after dark.

Explore Rome at After Dark on our Vatican Museum & Sistine Chapel Night Tour
If you're looking for the best Vatican tours at night, we wholeheartedly believe that we've raised the bar with this specific tour. People who join us on this nightly exploration of Vatican City can visit the Vatican's top attractions without the bustling daytime crowds, while street lanterns and lit-up buildings create an undeniable charm and evoke a feeling we'd dare call enchanting.
Guided by a personal, experienced and local guide blessed with a wealth of knowledge, participants will go on a wonderful 2-hour journey through the wonders of the Vatican: the Vatican Museums and the spectacular Sistine Chapel.
Our Vatican Museum & Sistine Chapel Night Tour starts at the Vatican Museums entrance, followed by visits to beautiful places such as the Pinecone Courtyard and the Pio-Clementino Museum.
On the way from the Museums to the Chapel, the hallways and galleries are decorated with amazing art by iconic Italian masters like Botticelli, Pinturicchio, Raphael and Perugino. The ultimate highlight, however, is Michelangelo's jaw-dropping Giudizio Universale at the Sistine Chapel.
This truly is a cultural and artistic experience that's virtually unparalleled in the world. And just because it takes place at night, well after the afternoon crowds have left, it takes on a whole other dimension.
Additional and Important Vatican Night Tour Information
Another reason why our Vatican night tour is so amazing is that it's with a limited group. This mini-group will have 8 participants at most, which allows for lots of interactions, opportunities to ask questions, chatting with the guide and other visitors, and so on.
Also worth mentioning is the fact that the price of this night tour of Vatican City includes skip-the-line tickets. So, there will be no need whatsoever to waste precious time waiting in line. You just enter right away upon arrival!
Note, however, that there may be security checks, which cannot be avoided to guarantee your own safety.
It's also important to point out that the Vatican is essentially a religious capital. As such, visitors are required to show respect and dress modestly. Entry to the Vatican Museums, for example, is only permitted to people who are dressed appropriately. Mini-skirts, shorts, hats and sleeveless clothes are not allowed. Neither are umbrellas or large bags. Keep this in mind.
Our Vatican Museum & Sistine Chapel Night Tour takes place every Friday evening from April through October. These are the only times when the Vatican Museums are open late.
Operating days: every Friday from April through October
Start time: 8 pm
Meeting point: Vatican Museums entrance (more info after booking)
Duration: 2 hours
Price: € 220 for up to 2 people; € 40 for every extra adult and € 30 for each additional child (6-17 years old)
Group size: maximum 8 people
You can find more details about our Vatican night tour on this overview page.