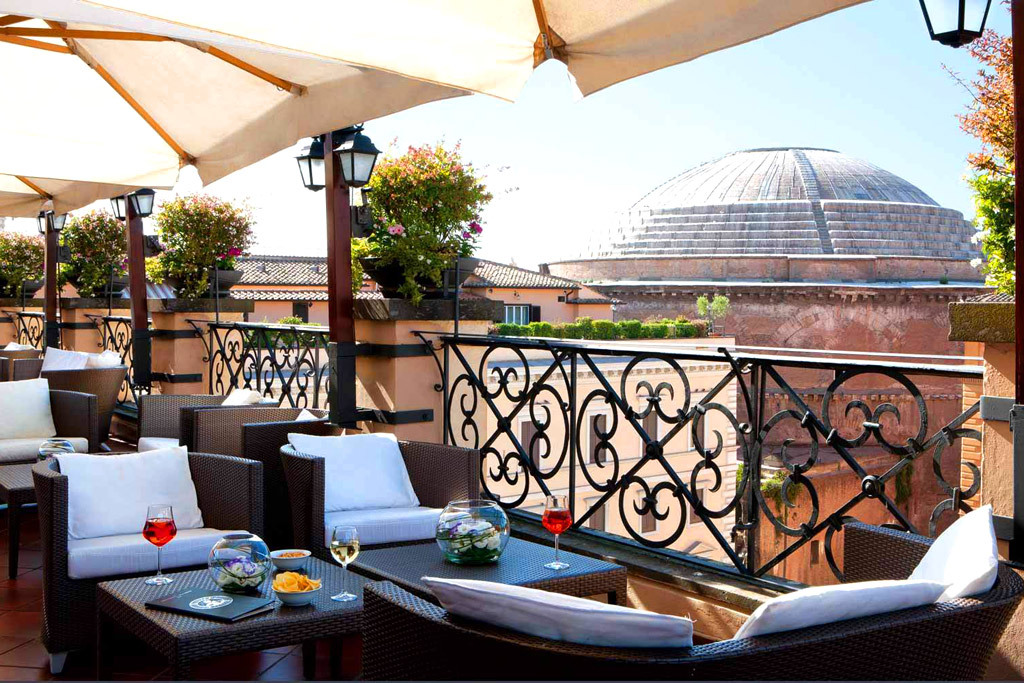 The Best Rooftop Bars in Rome
Dreaming of a delicious aperitivo at sunset overlooking the Domes and Palaces of the Eternal City? Fancy a unique place to celebrate a special occasion? You are in the right place then!
We at YouLocal have personally visited the Best Rooftop Bars in Rome and we are glad to share with you a list of our favorites. All are located in the historic center and normally operate from April to October. Some of them are open all year around. Be sure to give them a call to make sure of the opening times.
We wish you a great time and feel free to contact us for any further info or tips.
Enjoy!
---
1. Minerva Roof Terrace – Grand Hotel De La Minerve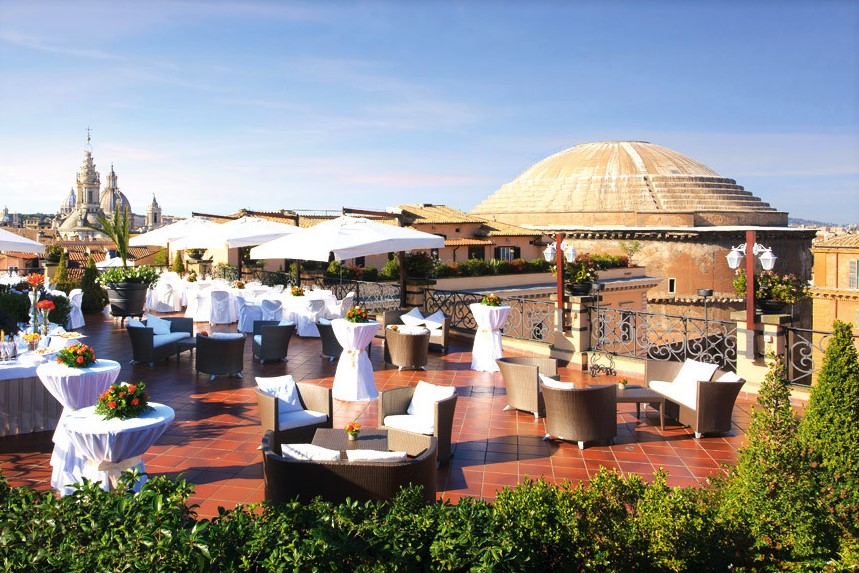 Nestled on the rooftop of a spectacular hotel, the Minerva Roof Garden is the ideal setting to sip a glass of Prosecco or a special drink at sunset, while enjoying the best views over the Pantheon.
Address: Grand Hotel De La Minerve, Piazza della Minerva 69
---
2. Il Giardino Bar – Hotel Eden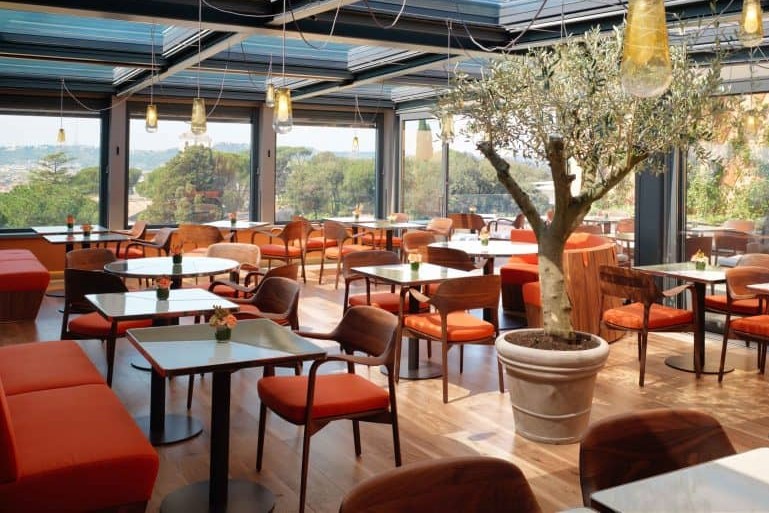 A true gem few minutes walk from the Spanish Steps. Having a drink at the Rooftop Terrace of the Hotel Eden is a one-of-a-kind experience. You can enjoy outstanding views of Rome in a cozy atmosphere, with a 5-star service. Definitely one of the best Rooftop Bars in Rome!
Address: Hotel Eden, Via Ludovisi 49
---
3. Terrazza Borromini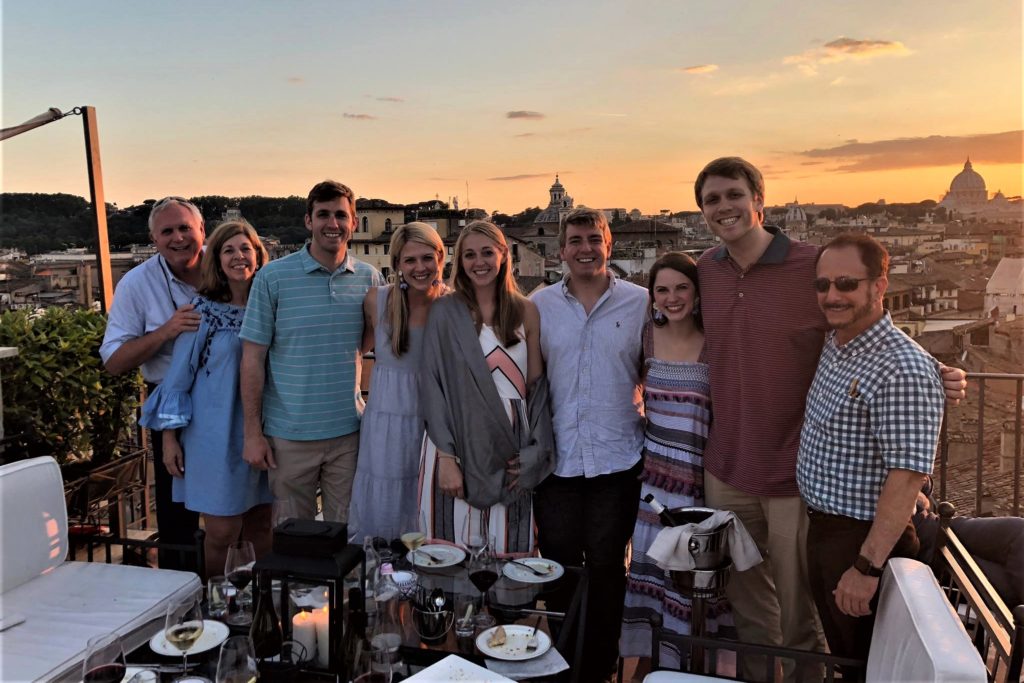 Settled on top of the gorgeous Palazzo Doria Pamphilj, overlooking Piazza Navona, Terrazza Borromini is a place you will never forget. Definitely worth a visit to relax after a busy day of sightseeing. As the picture shows we often take our guests to the Terrazza at the end of our Highlights and Hidden Jewels Tour of Rome!
Address: Eitch Borromini, Via di Santa Maria dell'Anima 30
---
4. Hotel Forum – American Bar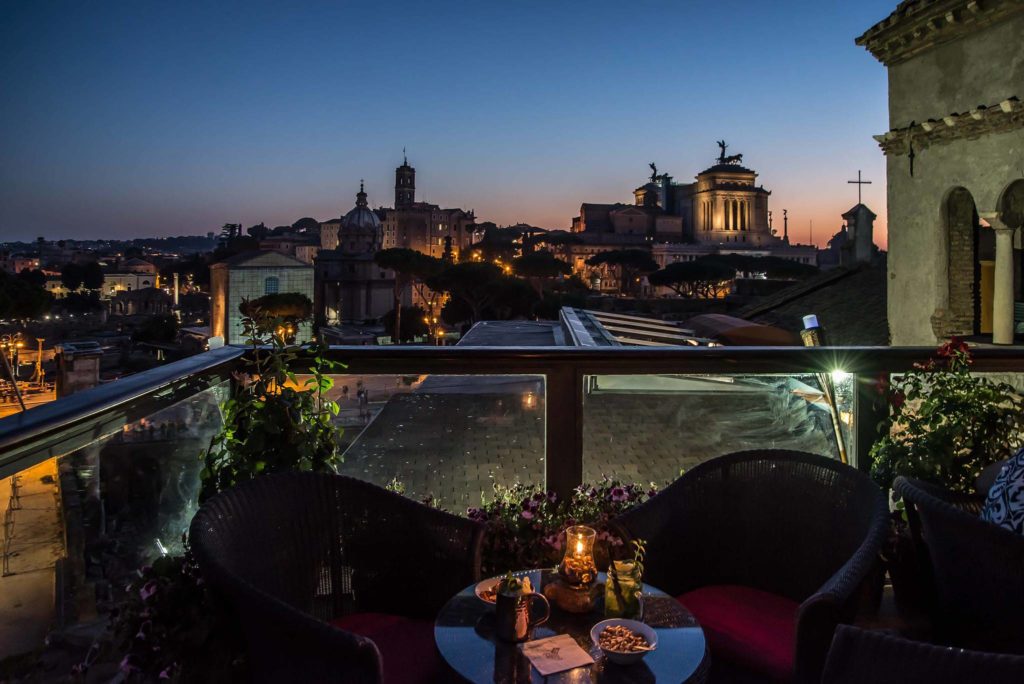 Hotel Forum hosts a stunning Rooftop American Bar with the best views over the Roman Forum. The perfect setting to enjoy a glass of wine after visiting the wonders of Ancient Rome!
Address: Hotel Forum, Via Tor de' Conti 25
---
5. Zuma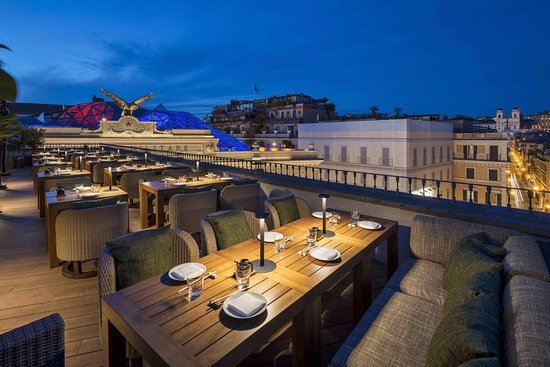 Fancy atmosphere and great views are guaranteed at Zuma, a spectacular Rooftop Bar and Restaurant located in the iconic "Palazzo Fendi". Perfect choice for a delicious coktails or a special dinner, few steps away from the Spanish Steps!
Address: Palazzo Fendi, Via della Fontanella di Borghese 48
---
6. Tiki Tiki Roof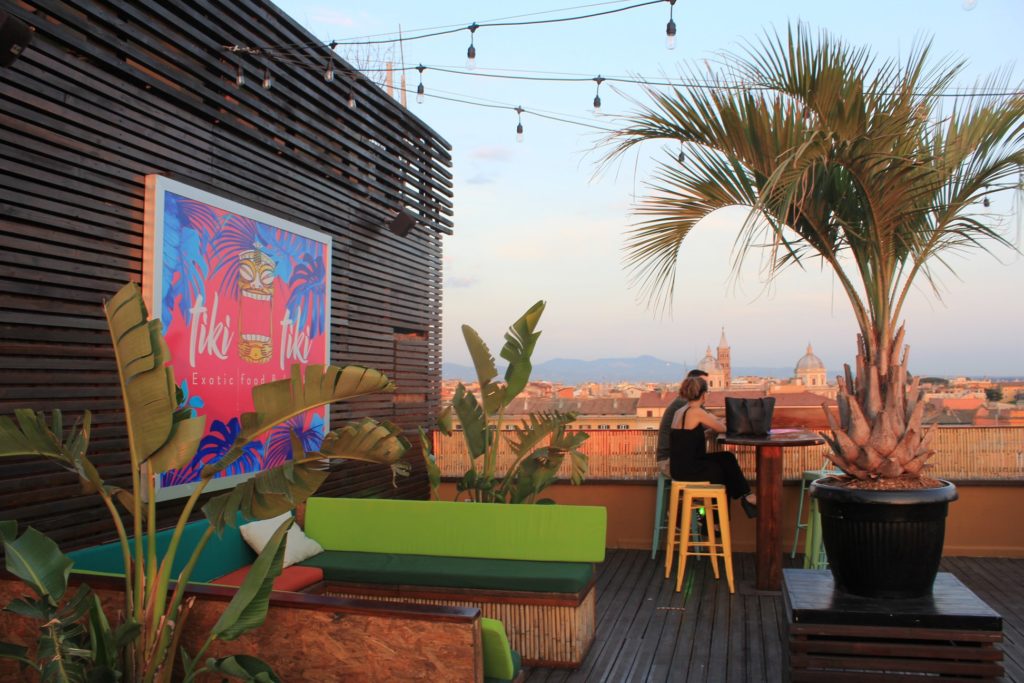 Tropical atmosphere and original cocktails are the key features of Tiki Tiki Roof. Particularly popular among young locals in Summertime, this Rooftop Bar is located a few minutes walk from Piazza Venezia and the Roman Forum.
Address: Hotel La Griffe, Via Nazionale 13
---
7. Singer Palace Rooftop Terrace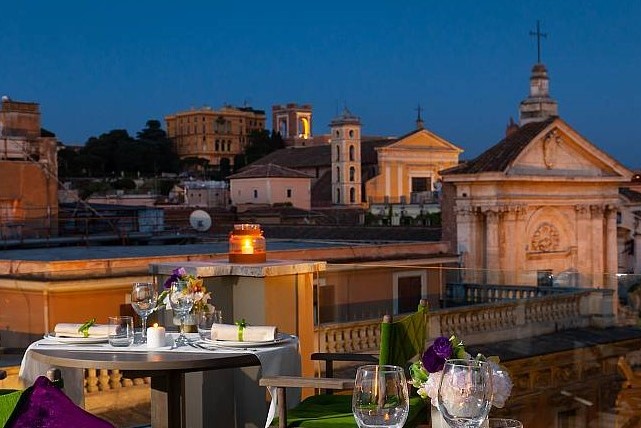 A true hidden gem in the heart of Rome! The Singer Palace Hotel is located close to the Pantheon and hosts a beautiful Rooftop Bar where you can enjoy great cocktails and delicious fingerfood specialties. Highly recommended.
Address: Singer Palace Hotel, Via Alessandro Specchi 10
---
Not satisfied yet? Have a look at our list of Rome's Best Winebars & Bistros then. Enjoy!