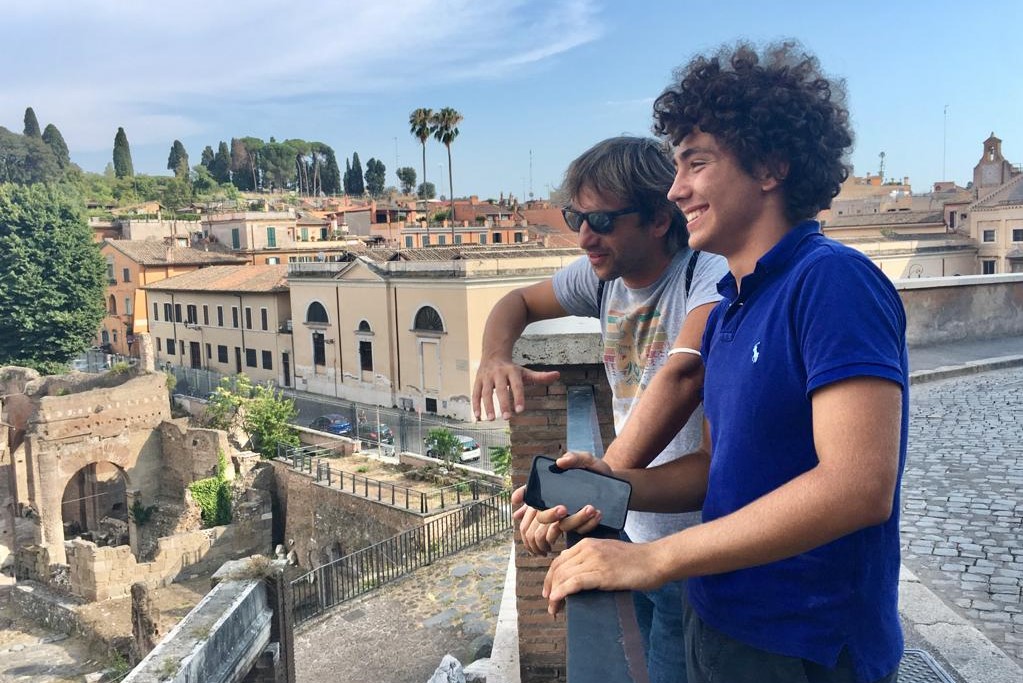 The Best Private Tours of Rome are those by Locals. Here's why
Rome is a city that's flooded by tourists all year round and, naturally, there are countless tour operators offering their products and services. In this article, we showcase the main features that characterize all the best private tours of Rome, from private tours of the Colosseum to private Vatican tours.
So, whenever you're trying to find or decide between tour operators, always keep these things in mind. We make sure that a tour that encompasses all of them will always have good ratings and provide a quality experience.
5 Features of the Best Private Tours of Rome
1. Local tour guides
This is arguably the most important feature of the best private tours of Rome.
It's the tour guide, after all, who ties together the four other things we'll talk about below.
Only a local guide will be able to take you to those amazing "hidden gems" and fantastic places to eat in Rome, while our guides are also awesome with kids, flexible and friendly. So, it's by using local, knowledgeable and expert tour guides that we're able to offer some of the best small-group, private tours in the Italian capital.
2. Family-friendly
It's an undeniable fact that Rome is a super-popular family destination. It would, therefore, be wise to make sure your private tours include at least some kid-friendly activities. While the adults may want to see art or learn about history, the younger members of the family generally just want to have some fun.
We offer several, private kid-friendly family walking tours in Rome, filled with hands-on experiences and fun activities.
3. Food-related 
We are a community of true Romans and we're taking you to the restaurants that we would choose for our family and friends. 
It's essential to "go local" to get to know the real culinary soul of Rome. We don't care about advertisement. We will take to authentic local haunts, food markets, small locally owned shops and restaurants, by retracing the origins of a product or dish, and by working with experienced local guides. 
Start dreaming from home: in our blog section Food tips and Nightlife you can find local recommendations about:
3. Small groups = exclusive, personal experience
The best private tours of Rome, whether they're a vatican private tour or a private food tour,  also offer the most exclusive experiences. This is typically achieved through a personalized approach and by keeping tour groups small.
We, at You Local Rome, really take this to heart and try to limit our group to size 8 individuals. This distinguishes us from many other Rome tour organizers, who often have mass tours with (much) more than 10 people.
4. 100% Customizable tours
A cornerstone of the best private tours in Rome is that they can be customized. Allowing customers to assemble their own tour, choose starting times, and change some activities gives them the best possible experience.
Because of that, all our walking tours in Rome are 100% customizable. Just tell us what you want to do and see, and we'll take care of everything else: the guide, the transportation, buying tickets to avoid long queues, and even possible restaurant reservations.
5. Beyond the highlights, away from the crowds
It's not difficult at all to create an extended travel plan to discover Rome with only major attractions like the Roman Forum, Vatican City and the Colosseum. There are, after all, an incredible number of them.
However, we strongly recommend thinking about tours to or in some lesser-known locales, too. In fact, many of the best private tours of Rome experiences and memories are created on those often-surprising off-the-beaten-path places.
For example, besides our private food tours of Rome and private Colosseum and Vatican tours, You Local Rome can also organize tours to see Rome under a new light by organizing visits to less-famous (and less-busy) museums. Wonderful examples are Musei Capitolini, Museo Nazionale Romano (Palazzo Massimo, Palazzo Altemps, Crypta Balbi e Terme di Diocleziano), Terme di Caracalla and others.
Awesome Examples of Private Tours of Rome
Here are a few examples of the private tours in Rome we have on offer.
For a complete overview of all our current walking tours in Rome, you can check out our tours page.
Editor's Note: This post was originally published in December 2019 and has been updated for freshness, accuracy and comprehensiveness.